WFC Continues Wild Card Elite Program
Share:
Posted Jan 15, 2020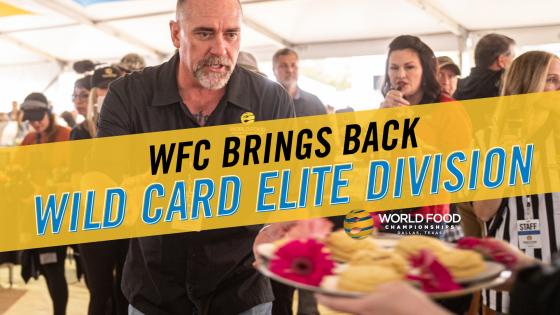 The World Food Championships (WFC) recently released over 100 qualifying events for its 2020 Main Event being held Nov. 6-10 at Fair Park in Dallas, Texas. But for those teams who don't have time to attend a qualifier — or simply believe in their ability to perform well at WFC — there's a way to upgrade their status and become a competitor immediately by joining the Wild Card Elite Program.
This Wild Card Elite program not only allows aspiring WFC competitors to compete in their category of choice, but it pits them against contestants throughout the entire event in a "virtual tournament" that rewards the top performers with bonus money.
"Basically, Food Champs who are really confident in their culinary skills can bet on themselves, qualify immediately, and join an elite group of cooks who are vying for extra cash," commented Mike McCloud, CEO and President of WFC.
Up to 20 competitors are able to obtain an Elite Golden Ticket, which requires a $1,000 entry fee instead of the typical $300. Competitors who select this option also get to select which of the ten categories they would like to compete in at WFC.
Want to know how exactly you win money through the Wild Card Elite Division? Here's how it works from soup to nuts:
The 20 Wild Card Elite Division participants will be placed into an additional scoring bracket outside of WFC's Main Event. Within this bracket, the WFC scoring team will review the participants' scores Top Ten dish scores. The three participants with the highest Top Ten Score (regardless of which WFC category they were competing in) will receive $3,000 (1st Place), $2,000 (2nd Place) and $1,000 (3rd Place). If for some reason none of the 20 Wild Card Elite Division Golden Ticket holders make it into a Top Ten Round, their Opening Round scores will be used to determine the top three winners.
Some past winners include 2017 World Seafood Champion Kim Banick, 2018 World Chef Champion Nick Rickman and 2019 Burger Competitor Ramon Douglas.
Wild Card Elite Division competitors can register starting February 3rd, the day WFC's Competitor Registration officially opens, by choosing the "Wild Card Elite Division" as the qualifying event. You will then be prompted to complete your registration and pay the $1,000 entry fee.
More qualifying events will be added throughout the year, please check WFC's Qualifiers Page after Feb 3, for more details. In the meantime, follow the World Food Championships on Twitter (@WorldFoodChamp), Facebook and Instagram (@WorldFoodChampionships) for more Food Sport updates.
About the World Food Championships
The World Food Championships (WFC) is the highest stakes food competition in the world. This multi-day, live-event culinary competition showcases some of the world's best cooking masters competing for food, fame and fortune in ten categories. In 2019, more than 450 culinary teams from 11 countries and 42 American states competed in WFC's Main Event. The Ten Category champs crowned will now face-off in the $100,000 challenge that will determine the overall World Food Champion at The Final Table: Indianapolis in May 2020.
« Back to News