WFC Releases 2020 Qualifying Events
Share:
Posted Jan 11, 2020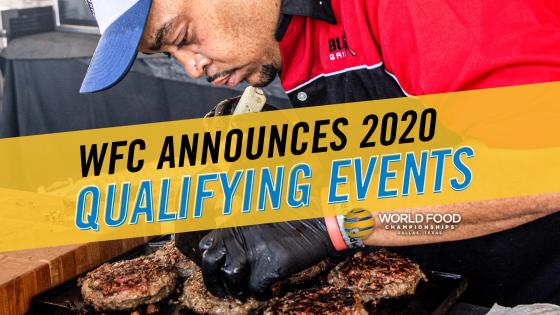 The world's largest Food Sport event, World Food Championships (WFC), just announced the first round of qualifying events for its 2020 tournament set to be held Nov. 6-10 in Dallas, Texas at Fair Park. These competitions, along with many others in Barbecue and Steak, are held throughout the year as gateways for aspiring chefs, home cooks and pro teams to qualify into the Ultimate Food Fight.
WFC is constantly reviewing events and competitions that meet the guidelines to become an official Qualifying Event. For 2020, WFC will be offering more online qualifiers like its Ka-Pop Instagram Contest, which opens Jan. 24 (click here to read the official contest rules). In addition, the event's most popular online qualifiers, Taste of America (March 1-31) and Taste of Canada (April 1-15), will return for another Food Sport season to help competitors from all over win their way into the largest culinary event in the world.
As a reminder to all contestants, 2019 competitors who finished in the Top Ten Round of their category do not have to re-qualify for 2020. These competitors must simply register online through WFC's system. Top Ten finishers are eligible for WFC's Early Bird special running Jan. 15-31 and will receive a $50 discount off their 2020 registration fee.
Here is a list of groups that are automatically qualified into WFC 2020:
Steak competitors who have won a 2019 or 2020 SCA sanctioned event.

Barbecue teams that have won a Grand or Reserve Grand Championship in 2019, from any official sanctioning body, are now qualified to register for WFC 2020 in either the Barbecue E.A.T.™ or IBCA division — or, perhaps, both. The approved sanctioning bodies include, but are not limited to, MBN, KCBS (Master's series), Pacific Northwest BBQ Association, St Louis BBQ Association, FBA, IBCA, SBN (Southern BBQ Network), SCBA and Lonestar BBQ Society.

Any Chili team that won any State or Regional chili victory by a sanctioning body like ICS or CASI, from Jan. 1 - Dec. 31, 2019, is qualified for the 2020 WFC Soup Championship. (WFC has officially changed the Chili Category to a Soup Championship for 2020.)
All eligible competitors will be able to register for WFC starting Feb. 3 when registration officially opens at https://worldfoodchampionships.com/registration. Each category will be filled on a first-come, fully-completed basis.
To view the list of WFC's 2020 Qualifying Events, click here.
More qualifying events will be added throughout the year, please check WFC's Qualifiers page after Feb 3, for more details. In the meantime, follow the World Food Championships on Twitter (@WorldFoodChamp), Facebook and Instagram (@WorldFoodChampionships) for more Food Sport updates.
About the World Food Championships
The World Food Championships (WFC) is the highest stakes food competition in the world. This multi-day, live-event culinary competition showcases some of the world's best cooking masters competing for food, fame and fortune in ten categories. In 2019, more than 450 culinary teams from 11 countries and 42 American states competed in WFC's Main Event. The Ten Category champs crowned will now face-off in the $100,000 challenge that will determine the overall World Food Champion at The Final Table: Indianapolis in May 2020.
« Back to News