The World Food Championships Announces Official Host Hotel
Share:
Posted Jan 9, 2020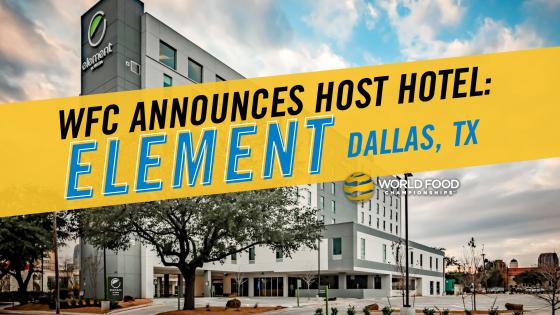 Continuing its week of exciting announcements to start off the New Year, the World Food Championships (WFC) revealed its Official Host Hotel –– ElementDallas Downtown East (a Marriott property). This new and modern boutique hotel is conveniently located less than two miles from WFC's new 2020 event site, Fair Park.
In addition to being the closest hotel to Fair Park, Element offers numerous benefits for competitors and judges who will be attending the 9th Annual WFC. For example, it offers a free shuttle service to and from Fair Park, free parking, free breakfast and free Wi-Fi to all guests. There's also a 24/7 indoor swimming pool and a full workout facility on the hotel's main level.
"This was a great option for us to select as our host hotel," commented Mike McCloud. "It's modern, close to Fair Park and has all the amenities that discerning travelers look for - without the expensive fees that come with big resort hotels. One thing everyone needs to know, though, is that it only has about 150 rooms. So the hotel will sell out for sure, and for that reason, I'd suggest serious competitors get their rooms locked in soon."
Standard rooms will be offered at $159 a night while inventory lasts, with an option for a King Suite upgrade. WFC's special rates can be applied to any dates between Nov. 1 - Nov. 14, 2020. Click here to reserve your room.
Additionally, WFC is working with the Hilton group to also provide a few other great hotel options in the area for overflow bookings, including one that will offer in-room cooking amenities. Special codes and details on these additional accommodations will be released soon.
In the meantime, follow the World Food Championships on Twitter (@WorldFoodChamp), Facebook and Instagram (@WorldFoodChampionships) for more Food Sport updates.
About the World Food Championships
The World Food Championships (WFC) is the highest stakes food competition in the world. This multi-day, live-event culinary competition showcases some of the world's best cooking masters competing for food, fame and fortune in ten categories. In 2019, more than 450 culinary teams from 11 countries and 42 American states competed in WFC's Main Event. The Ten Category champs crowned will now face-off in the $100,000 challenge that will determine the overall World Food Champion at The Final Table: Indianapolis in May 2020.



« Back to News