We're excited to see the field of competitors who have already won their golden ticket and registered to compete at the 2022 World Food Championships. And we are always proud to announce our special guests and celebrity judges participating in our judging events across the nation - we're sure the championship food certainly helps! Best of luck to our 2022 competitors!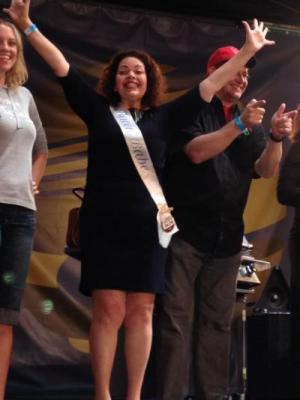 COMPETITOR
The Bacon Babe & Her Fabulous Bacon Boys
HEAD COOK: Jodi Taffel
COMPETITION: Bacon World Championship
QUALIFYING EVENT: 2013 World Food Championships
The Bacon Babe is back and she's ready to snatch that Bacon crown! After placing in the Top 10 of the Bacon World Championships at the 2013 World Food Championships AND recording the highest scoring casserole of the competition, I competed in the Tostitos One Chip Wonder Contest and won $1,000 for my Candied Ginger and Pink Sugar Crusted Tostitos Scoop filled with ginger paste, lemon curd and limoncello cream. Things got VERY busy after I was heavily featured on the ABC NIGHTLINE segment about the World Food Championships ( http://abcnews.go.com/Nightline/video/battle-best-barbeque-22595151), including being asked to emcee a high profile event for the Pasadena Tournament of Roses. In April, I competed against 12 years worth of 1st place winners at The 2014 Grilled Cheese Invitational and took home the Grand Crown as the Final Grilled Cheese Champion. And since then, I've won the Grand Prize of $4,000 from Food.com in their 2014 A1 Sauce Challenge, the Grand Prize of $2,000 in cash and prizes in The 2014 Just Bare Chicken +5 Ingredients Challenge, The Grand Prize in the Farmland Bacon Recipe Challenge, the Just A Pinch Bacon Recipe Contest, 2nd Place in the 2014 Cooking Planit Formaggio Challenge, and the Phyllo.com "Make It Fancy With Phyllo" Contest in both June and September.