We're excited to see the field of competitors who have already won their golden ticket and registered to compete at the 2021 World Food Championships. And we are always proud to announce our special guests and celebrity judges participating in our judging events across the nation - we're sure the championship food certainly helps! Best of luck to our 2021 competitors!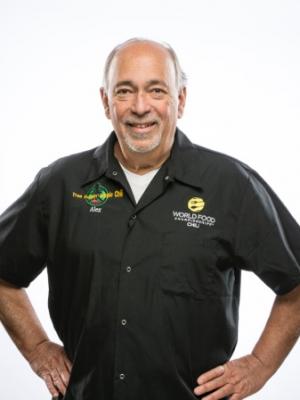 COMPETITOR
Tree Huggin' Hippie Chili
HEAD COOK: Alex Tanalski
COMPETITION: World Burger Championship
I am a Chef who developed culinary skills through cooking in competitive competitions for 22 years while working as an Architectural Engineer for 40+ years. My Engineering career has been incredible, but my passion is cooking and competing. My formal culinary training consists of attending classes at the Culinary Institute of America, Napa CA, Ramekins Culinary School, Sonoma CA, and as a hands-on volunteer at the Petaluma Elks Club 901 as a Chef for member dinners. My competitions have supported charities throughout the country. My hometown competition participation has contributed to raising $105,000 for Petaluma's Children's Cinnabar Theater. As my skills developed, I have won four Chili Appreciation Society International (CASI) California State Championships and have qualified and competed in the Terlingua International Chili Championship five different years. My resume is enhanced by winning the 2015 Hormel Chili Nation Championship which I take great pride in. Locally I have competed at the Healdsburg CA. Executive Chef Chili cook off representing Thumbprint winery. In a pack of 29 Executive Winery Chefs in 2014 I won 2 of six categories and in 2015 I won 4 of six categories. My team has competed at the World Food Championship Chili category for the last 5 years and finished in the Top 10 in 2016 and 2017. In 2016 we finished first in the Structured category. In 2020 I became an E.A.T. Judge. I competed in the WFC Virtual Food Sport Competition. I entered 4 different categories and after working on dishes all year raised my competition dishes to new levels to becoming a stronger well-rounded Chef. Also, in 2020 I competed in two other competitions highlighting Southwestern Cuisine in the Fresh Chile Company Competitions winning in July, December 2020 and March 2021. I am currently competing in the 2021 Favorite Chef Competition. In the initial round I came in 3rd and moved into the top 15 and currently in 1st place for Top 10 qualifications. I will be going to the International Chili Society (ICS) Word Championships in September 2021 to compete. I used the 2020 COVID lock down to improve my culinary skills in virtual competitions and I am ready to compete in real time in September and November 2021.