We're excited to see the field of competitors who have already won their golden ticket and registered to compete at the 2022 World Food Championships. And we are always proud to announce our special guests and celebrity judges participating in our judging events across the nation - we're sure the championship food certainly helps! Best of luck to our 2022 competitors!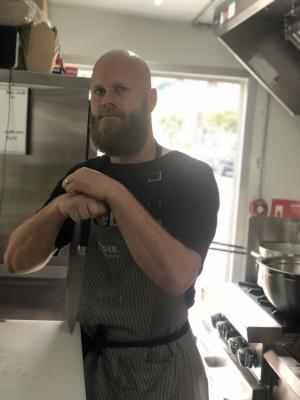 COMPETITOR
Joshua Spiess
HEAD COOK: Joshua Spiess
COMPETITION: World Dessert Championship
My grandmother always told me, "Anything worthwhile is never easy." She was very right about that simple saying. We are faced with decisions every day and it is our choice to either do the right thing or the easy thing. I credit my parents, grandparents, close mentors and my wife for encouraging me to work my hardest, accept nothing but the best, and to strive and push myself to be better every day. I've learned through years that through failure, ideas and lessons are learned. It is only through failure that one can learn from those mistakes. This is vital. In the kitchen, things are going to inevitably go wrong, but don't let that limit your desire to learn because you will cease to grow. My curiosity for food started at the age of 11. When my younger sister and I weren't outside building bike ramps or forts, we were in the kitchen cooking and baking. We were exposed to great cooks in our family, my father, my grandmother. The aromas are still fresh in my memory. The smell of a good sear on the grill from my father's London broil or porterhouse, the simmer of my grandmother's turkey soup and of course our family's tradition of steamed crabs. Food was (and still is) a sense of family, sharing, gathering and great conversation. I started my career in the food service industry as a dishwasher at the age of 15. From the minute I walked in my first kitchen, I was hooked. I loved every aspect that kitchen involved. It was a melting pot of cultures, a pirate ship of personalities. "Shut up and work" seemed to be the philosophy and I was somewhat already groomed to that command from my family's value in work ethic. In my teenage years I would stay in the industry always taking on the jobs no one wished to do and those habits later transformed me into a chef. My mom asked me after I graduated high school, "What do you want to do for a living?" The answer was clear; I wanted to be a chef! After High School, I immediately enrolled in one of the nation's best culinary schools, Johnson and Wales University. Shortly after graduating I became the sous chef at the Fish House in Pensacola, Florida. My chef one day told me, "You know there is an excellent culinary program in the Army." I figured, why not? In 2000, the war in Afghanistan had just begun and the military needed soldiers. I made the decision to enlist and serve the country in a time of need. I joined the US Army as a cook. We were sent to the Iraq war in 2002 during the first invasion. At first, I felt as if I had taken a huge step back. The military food was very basic and I felt as if I had made a grave mistake. I served with the Big Red One during my time in AR Ramadi, Iraq. Our unit provided military food service in the desert from a mobile kitchen trailer. The mobile kitchen trailer unfolded as it was an autobot or if an autobot were a kitchen on wheels. A hot meal goes a long way when you're thousands of miles from home in a place of war. When I served in the military, I was able to fit many different roles, from cooking for a thousand soldiers to cooking for a high ranking general officer. My experiences in the military were invaluable and helped shape my career. After leaving the military I met my wife. We always wanted a business to call our own. We were always bouncing ideas around about possible business ventures we could do together as a team. One day she pitched the idea, "What if we did an arepa food trailer?" At first, it didn't sink in; I couldn't wrap my head around the idea, but one day while at work, it all began to make sense. This could be a very successful story! I began to ask many questions about arepas. An arepa is a gluten-free unleavened corn bread that has existed for centuries in Colombia. My wife, being a Colombian, grew up eating them. It is a staple food in her country. We did research for just the right ingredients that the arepas would pair well with. The possibilities were endless! Our mission and purpose is to share with the world the culture of different cuisines while showcasing arepas from Colombia. Through food spirits are healed, friendships are formed, families are united and memories are born. My grandmother was right! All of the hard work my wife and I have accomplished has paid off. We embark on this journey knowing that whatever life throws our way we can succeed as long as we believe that our dreams are protected by our unbreakable love and commitment to each other.