We're excited to see the field of competitors who have already won their golden ticket and registered to compete at the 2022 World Food Championships. And we are always proud to announce our special guests and celebrity judges participating in our judging events across the nation - we're sure the championship food certainly helps! Best of luck to our 2022 competitors!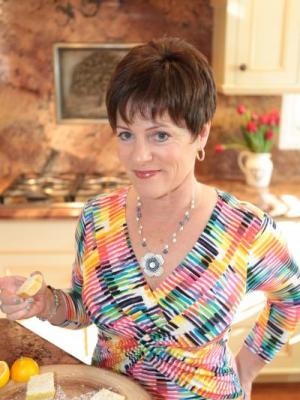 COMPETITOR
Cooking with Laurie
HEAD COOK: Laurie Figone
COMPETITION: World Dessert Championship
QUALIFYING EVENT: 2014 World Dessert Championship Top 10
Laurie Figone is an award-winning chef, TV personality, and author. She has won top honors in numerous national and international recipe/cook-off competitions including the Gilroy Garlic Festival's 'So You Think You Can Cook with Garlic', Bob's Red Mill 'Spar for the Spurtle', the 19th Annual World Porridge Making Championship in Scotland, Taste of Home recipe contest, the 1st Annual Cook-Off Before Kick-off, and most recently winning the World Food Championship Dessert Category. Laurie has been featured on the TODAY Show as a Top 3 Finalist in their Burger Battle, and was spotlighted by celebrity chef Paula Dean in the Real Women of Philadelphia contest. She has also been a guest numerous times on FOX 40-TV in Sacramento, CA and has appeared on CBS's Good Day Sacramento. She is currently working with KTVU Channel 2 in Oakland, CA as a frequent guest chef for their cooking segments. Laurie has been the featured chef for the last three years at the Sonoma County Fair performing three daily cooking demonstrations for the duration of the Fair, has been a guest speaker at the California Women for Agriculture Annual Convention, and has been a food columnist for the Sonoma County Farm Bureau for three years. My very first cookbook "Cooking with Laurie Figone" has just been released. To see it all come together has been a real dream of mine. My book features an augmented reality feature, it's high-tech AnD filled with full page photos of every DeLiCiouS recipe from entree`s all the way to dessert. Signed copies will be available at the W.F.C. After winning last year I ended up on KTVU Fox2 making one of my winning desserts, the producer loved me and I have become a regular, sharing my LuV for cooking to the masses has always been a dream of mine!! I remember my first year walking into the 2013 World Food Championships hearing people I had never met in person shouting "Hello Laurie" to me...my family of FaceBook friends...such an amazing experience...and that's the BeSt part of W.F.C., all of the friendships made that will last forever!! YeP, you guessed it...my eye is on the $100 Grand!!! I am a fierce competitor with an awesome Sous Chef, together we are unstoppable!!!