We're excited to see the field of competitors who have already won their golden ticket and registered to compete at the 2023 World Food Championships. And we are always proud to announce our special guests and celebrity judges participating in our judging events across the nation - we're sure the championship food certainly helps! Best of luck to our 2023 competitors!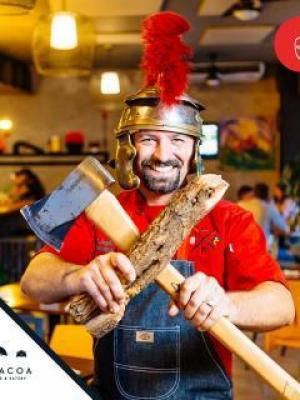 COMPETITOR
Barbacoa
HEAD COOK: Angel Munoz
COMPETITION: World Live Fire Championship
Barbacoa is a family story and its main character is Chef Ángel Antonio Muñoz Jiménez. Born and raised in San Juan, Puerto Rico, Ángel started his culinary adventure as a little boy cooking with his grandma. He used to sneak into his abue- la's kitchen every time he visited her, not only to eat his favorite food, but to help her in the process. After graduating from high school, he decided to pursue a culinary career and enrolled in the prestigious Johnson and Whales University in Providence, Rhode Island. During this time, and beyond his college years, Chef Ángel had the pleasure to work with renowned chefs like Chef Ramiro, Chef Gonzalo Rivera, and many more. He has also traveled to different parts of the world in search of inspiration and new techniques. Chef Ángel has had the opportunity of working in restaurants both abroad and at home in his beloved Island like: El San Juan Hotel, Burger-Fi in Florida, La Hacienda Meat Center, and Thai Wok, Tapas Bar, and Revulú, three restaurants of his own creation, just to name a few. Recently, Chef Ángel won first place in the Caribbean Food Championships for his Smoked Chicken and Pastrami Sandwich recipes. In 2016, he married Sylvi and they enjoyed their honeymoon visiting Amsterdam and Italy, a trip that certainly ignited Angel's flow of ideas. It was those ideas, along with one of Ángels and Sylvi's favorite things to do; hosting BBQs; that gave birth to Barbacoa. Barbacoa is the product of Chef Ángel's culinary experiences and his love for food, family and service. The word "barbacoa" derives from the Taíno word "barabicu", meaning the sacred fire on which they cooked their food. The word was incorpo- rated into the English language by pirate William Dampier, and our gladiator Chef Ángel, brings it to you. These three dis- tinct cultures - taíno, pirate and gladiator - converge into one shared table where we prepare food "a la Barbacoa" for all tastes, ages and with lots of flavor. No matter how different the culture, the food cooked "a la Barbacoa" unites us all! Our mission is that you feel like you are enjoying a BBQ at home just like Ángel, Sylvi and their baby Ángel Antonio usually do. Welcome to our Barbacoa!