We're excited to see the field of competitors who have already won their golden ticket and registered to compete at the 2023 World Food Championships. And we are always proud to announce our special guests and celebrity judges participating in our judging events across the nation - we're sure the championship food certainly helps! Best of luck to our 2023 competitors!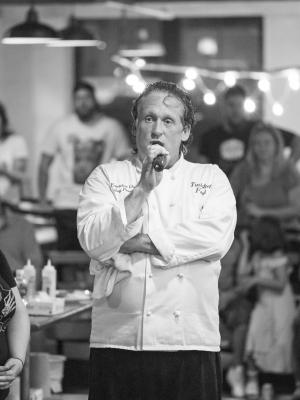 COMPETITOR
Team Twisted
HEAD COOK: Jay Powell
COMPETITION: World Chef Championship
"I can remember with certainty at 4 my mother picking me up next to the stove and having me scramble eggs for breakfast for the very first time. I also remember my dad trying to pry me away from the TV to mow the lawn as I watched Julia Child debone a duck and flipping channels to watch Chief Jay Strongbow put on the sleeper hold to win another match on Pro World Wrestling. I remember the first meal I cooked for my family, right out of the Justin Wilson cookbook, I can recall all of my cooking events as if they were yesterday." Summers in the '70s were spent at my grandfather's cottages on Lake Winnipesaukee in New Hampshire, where guests would always bring something to the welcome potluck dinners. My grandfather's dish was chop suey, which I now serves at his restaurant, in addition to his Pepere's recipe for grilled kielbasa and rye bread. Food aromas stir memories of my youth "I have sautéed garlic, onions and oil countless times, but it always bring me back to watching my grandfather cut onions in one hand, saute garlic and oil, and oh, that smell. My culinary influences have been my mother (rock star of comfort food), both of my grandmothers, one from Canada and the other, Bermuda (she was the Julia Child of the island and mentioned in many Bermuda cook books), '70s Saturday morning PBS Julia Child, and chefs Justin Wilson, Jacques Pepin, Graham Kerr and Martin Yan. Also, the families that vacationed at my grandparents' cottages on Lake Winnipesaukee, where I spent every summer vacation during the '70s. I especially recall my grandfather's potluck dinners. All the kids would be swimming and having fun while I was helping in the kitchen. Many of the chefs and past employees I have crossed paths with during my 30-plus years of cooking all influenced my career. My dad has influenced me the most, with his perseverance, kindness, tolerance and his wanting to help everyone. I never take myself seriously but I do my food. As you will find out I love to have fun.