We're excited to see the field of competitors who have already won their golden ticket and registered to compete at the 2023 World Food Championships. And we are always proud to announce our special guests and celebrity judges participating in our judging events across the nation - we're sure the championship food certainly helps! Best of luck to our 2023 competitors!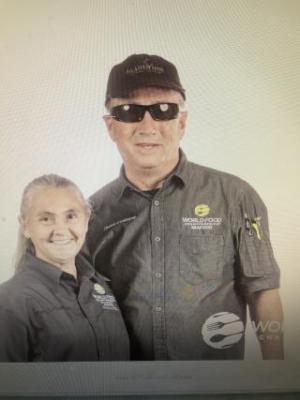 COMPETITOR
Island View casino Gulfport Ms
HEAD COOK: David Crabtree
COMPETITION: World Seafood Championship
2016 was the first year that Chef Crabtree competed in the WFC in the steak category placing 13th over all . Chef Jackie Seavey assisted in the effort as a sous chef . 2017 -4th place over all in seafood category . 2018- 3rd place seafood over all . Joined Chef Jackie's team to go to the final table ,and won it all . World championship ! 2019-3rd place seafood over all 2020-was my year to win it all ,but covid shut it down . 2021 -4th place seafood over all . 2022 4th place seafood finish A fist place must be in the future eventually ! For David Crabtree, being a chef is who he is, not just what he does. His passion for creating ,and sharing great food, which began as a young boy growing up in South Mississippi, led to 45-year career in the food industry , and the position of executive chef at Island View Casino Resort. Crabtree, who joined the Gulfport, Miss. resort when it opened 2006 during the area's recovery from Hurricane Katrina, responsible for overseeing Island View's culinary department with over 125 back of the house culinary personal .Island View operates multiple dining venues, including fine dining, casual, buffet and specialty restaurants, as well as off property catering. His professional experience includes holding positions increasing responsibility for casino resorts located in Mississippi and Louisiana, as well as serving as executive chef for Diamondhead Country Club in Bay St. Louis, Miss. Following Hurricane Katrina, Crabtree also worked as a subcontractor for Belfore Property Restoration as a disaster relief caterer, operating a satellite kitchen in Gulfport, transporting hot meals for 400 people daily. Crabtree's practice of using fresh, local ingredients was formed early in his career during apprenticeships under Emerile Lagasse at New Orleans' famed Commander's Palace and Gerard Maras at Mr. B's Bistro also located in New Orleans. An advocate for education in his field, Crabtree has served as an adjunct instructor at Mississippi Gulf Coast Community College, Bossier Parish Community College and the University of Southern Mississippi. Crabtree's career accomplishments include more than 58 awards received from culinary competitions throughout the southeast .Over the last 40 years he has competed ,and won awards in numerous bbq events . He vowed to get a seat at the WFC final table eventually .When business allows he seeks out weekend festivals that offer food sport competitions as well as a car show ;he calls it the collision of his two worlds .He is a charter member of the Mississippi Gulf Coast Chapter of the American Culinary Federation. Since the organization's founding in 1991, Crabtree has held several board roles, including president, and was awarded Chef of the Year in 1992, 1997 and 1999 and member of the year in 1996. Crabtree received an associate degree from Delgado Community College in New Orleans and completed the baker training program at Global Marine Drilling Co. in Lafayette, La. He also received his CWC Certification by the American Culinary Federation. Currently residing on a small inherited homesteaded horse ranch in Saucier, Mississippi with his wife Mary, daughter Chantelle and son Troy, Crabtree enjoys power boating, fishing, hunting, wood carving and soccer, also a high school soccer official traveling throughout Ms. to officiate games. He also is an avid classic car enthusiast, participating and winning in many car shows with his three Mopar's a 1973 Dodge Dart Swinger, and a 2010 R/T challenger, 1999 Dakota R/T Chef Crabtree is always striving for balance between , work , family and personal time . Always trying to avoid dead time as he fully believes each day is precious.