We're excited to see the field of competitors who have already won their golden ticket and registered to compete at the 2021 World Food Championships. And we are always proud to announce our special guests and celebrity judges participating in our judging events across the nation - we're sure the championship food certainly helps! Best of luck to our 2021 competitors!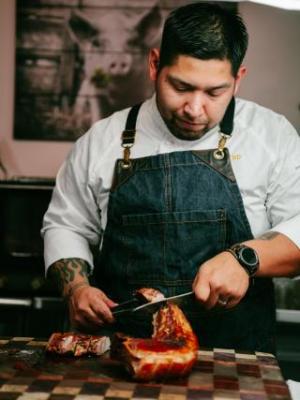 COMPETITOR
CBDcuisine
HEAD COOK: Ben Diaz
COMPETITION: World Chef Challenge
Born in Los Angeles, California, Chef Ben Diaz has always had a fascination with cooking, which stemmed from watching his father (an already accomplished chef himself) cooking and making breakfast. "Watching my dad cook breakfast and seeing the passion he had for his craft really inspired me," says Chef Ben. Chef Ben is a graduate of the prestigious California School of Culinary Arts, he is a coveted freelance chef and consultant who has been inducted into the "Les Amis d'Escoffier Society", Cambridge "Who's Who of Culinary Professionals" and "World Master Chefs Society". Chef Ben holds six certifications, including Certified Hospitality Department Trainer and Certified Food and Beverage Executive; he has worked alongside the world's top chefs as a member of the Los Angeles Chefs de Cuisine Association. Chef Ben is also a publish author with "From a Cook To a Professional Chef" a culinary reference book that Chef Ben created and launch in 2011, with all this and more going on Chef Ben also finds time in his busy schedule to work with local charities most notable are the Boys and Girls Club of San Gabriel and the Cystic Fibrosis Foundation of Irvine. Chef Ben has worked in some of the best restaurants in town including The Silver Trumpet Restaurant, JW Marriott and Stockdale Country Club where the main focus was on fresh seasonal and locally grown produce. Currently Chef Ben is the Executive chef at The Culver Hotel, Director of Epices De La Vie Gourmet Salts & Spice Co., Corporate Chef at CBD Cuisine Consulting Services & Catering Division. Chef Ben is currently working on several new projects; one being the opening of his first brick and mortar restaurant slatted for late 2017 and a second cookbook focusing on small plates, Chef Ben is brand ambassador for turbopot, spiceology, chefsroll, the perfect puree and fresh origins micro greens; Chef Ben is an abet competitor his most notable awards where for World Chard Champion (pork division), Western Regional Champion for Phillips King Crab, San Diego Food Fest Grand Champion and Made for Chefs Throw down Champion as well as appearances on food networks chef wanted and cutthroat kitchen. In 2018 Chef Ben was voted CCAC chef of the year and best latin food chef in socal.