We're excited to see the field of competitors who have already won their golden ticket and registered to compete at the 2022 World Food Championships. And we are always proud to announce our special guests and celebrity judges participating in our judging events across the nation - we're sure the championship food certainly helps! Best of luck to our 2022 competitors!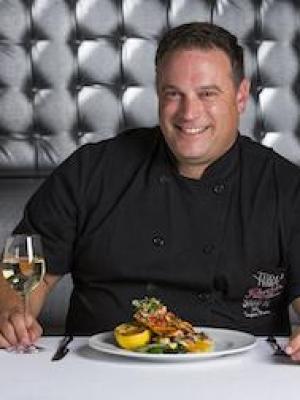 COMPETITOR
Substance Food Group
HEAD COOK: Stephen Perrin
COMPETITION: World Recipe Championship
Substance Food Group: Stephen Perrin – Restauranteur, Pitmaster, BBQ Champion, Vegan Chef? Steve Perrin has a unique take on food. The multi time world-champion chef is an award-winning culinary personality, having worked in everything from soup kitchens to Michelin-starred European trattorias, to BBQ competitions and television. This award-winning Chef, pitmaster, and successful restauranteur has legions of impressive credits to his name, having won first place at international events such as the Jack Daniel's World Championship Invitational Barbecue, World Food Championships', Memphis in May World Championship, and more. As the Executive Chef of Ontario-based Substance Food Group, Steve began his food journey as an 18-year-old student at George Brown College in Toronto before traversing Europe and working in upscale steakhouses and bistros in England. He then returned to Toronto to work with Canuck celebrity Chef, Mark McEwan. This is when things really take off. During his time working at McEwan's North44, Steve returned to England and worked with the world-famous Roux Brothers, when he received a call from Mark, asking him to return. "He said, 'when are you coming back, I need you.'" Upon his return, Perrin and McEwan opened Terra in 1995, the flagship restaurant of Substance Food Group that became the jump-off point for Perrin and his partners. Terra represents a fine-dining experience with McEwan's roots – while Rusty's in the Blue Mountain Village is where Perrin feels most at-home, despite opening the upscale establishments of Sarpa and Francobollo in the GTA in 2010 and 2015, respectively. "Rusty's is my favourite restaurant," says Perrin with a grin sitting in front of the bar. "It's a casual bar, it's a smokehouse – but we cook everything from scratch… It appeals to the basic human needs; fire and meat… I knew nothing about smoking or BBQ [in 2008] so we went to Texas to compete in the Chili Championship. We competed in BBQ. We actually got a 2nd in brisket, a 3rd in chicken, and 8th in ribs on our first contest – that was the hook, where the addiction came from." BBQ contests accomplish two major things: provide bragging rights, and serve as a proverbial training ground of innovation and ever-evolving technique that influences the next menu. Despite the stereotype that BBQ is an old-boy's club rooted in regionalism and staunch tradition, it's constantly changing - and Perrin uses competition as a mode of research and development. Thing is, all roads do not lead to meat. A big part of balancing the creativity needed to excel in the modern culinary landscape with the business-side of being a restauranteur is catering to your market. And like BBQ, tastes and trends are always changing. Steve cites the popularity and presence of vegan/vegetarian food as an intriguing way of life that has refused to be ignored over the past decade. Being a BBQ man, one may think he'd shun this development – but no; he's fully embraced veganism at Rusty's, developing a mouth-watering menu for vegan and vegetarian patrons. "The population of vegans has grown from 6% to 11% - plus in the summer I recognized a demographic change. Your ski demographics are different from summer – it's a lot more people from India, Asia, the Middle East – culturally, a considerable chunk of these demographics are vegan or vegetarian." Cue Rusty's comprehensive vegan menu. How about a vegan brisket made from wheat gluten and nutritional yeast, poached in an umami broth of mushroom, soy, ginger, and garlic; rubbed with BBQ rub and smoked over oak – served on a vegan bun with veganaise and vegan coleslaw and/or vegan poutine with soy-based mozzarella. Or how about a jerk-jackfruit taco, a BBQ jackfruit pulled-pork sandwich, a gluten-free vegan empanada, or the quintessential Beyond Meat sausage or burger. Does all this talk of a vegan lifestyle hurt a bona fide BBQ man? Not in the slightest. "This is what I learned a long time ago in my career: it's not necessarily what I want – it's what my customers want. The moment I got over my ego and decided to listen to our customers was the moment we started showing success. At Terra for example, we follow organic, we follow local – here it's BBQ, but at Terra we've got Wagyu beef, huge steaks, rack of lamb, duck confit – and an array of vegan options which are very refined… I don't know this is a food trend, but a new lifestyle." This is the ethos of progressive culinary curators; recognizing the various ebbs' and flows of the cultural landscape and welcoming change with open arms. Good food is good food for Stephen Perrin – and that's one thing he does really, really well.