We're excited to see the field of competitors who have already won their golden ticket and registered to compete at the 2023 World Food Championships. And we are always proud to announce our special guests and celebrity judges participating in our judging events across the nation - we're sure the championship food certainly helps! Best of luck to our 2023 competitors!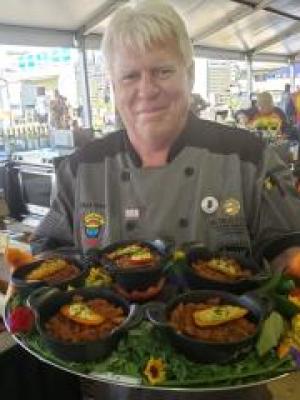 COMPETITOR
Chili Rocks
HEAD COOK: Geo Phelps
COMPETITION: World Soup Championship
After a career as a Cincinnati Fire Fighter for over 30 years, I decided to take on my second love, and that is cooking. Throughout my career, I had the chance to work with some of the best fire house cooks, and modified their recipes to fit my own style. Something fire fighters are known for is chili, and so I started competing in cook-offs locally early in my 33 year career, and then across the country. I was determined that my unusual style of cooking using a wide assortment of veggies would win over the judges, but all I got was the kiss of death when the public love it but rarely the judges. At one point, a judge made a comment that "it is more like a stew than a chili" so I named my chili "Stewhili". After many years of my own style, I tried conforming with the cookie cutter style, and started getting points and positive comments. Once I was forced to retired due to multiple injuries, I decided to turn my hobby into a business expanding my chili competition booth name CHILI ROCK CAFE into a business. While going through the trademarking process, I received a letter from a major International company with a similar name. I was forced to then change my company name to CHILI ROCKS which actually turned out better because CHILI ROCKS is not only a company name but a company statement. Now I have over 50 locations across the world that don't exist but have the t-shirts to prove it. I run into people from around the world who buy t-shirts from me, modify the logo to make it any city in the world! So as an individual, I have made the appearance that I am a huge International Company. In addition, I had the opportunity to visit fire departments in Germany and France, so cooked my style of chili Internationally by cooking in both countries! About 12 years ago, I made the first step by bottling 4 BBQ Sauces, and now have over 40 sauces covering all aspects of culinary needs. In addition, during the pandemic my sales dropped dramatically, so I decided to expand my selection of products to use chili powders and seasoning used over the years, and sell them also. I now have about 10 bottled seasonings including 3 chili powder blends, several sea salts, and rubs. My products are offered under the Chili Rocks brand, and currently sold in over 30 retail locations in 4 states. I am also in the process of developing various styles of chilies, and working with a local canner to make several new chilies available on the market. Over the years, I would wake up in the middle of the night with recipe ideas, and would either write them or type them in my iPhone. The following morning I would see what I came up with, and experiment on my fellow fire fighters to see what they thought. In 2013, I was invited to participate in the 2013 World Food Championship, and it has increased my love and appreciation of food and cooking. On my return flight, I fell asleep for 10 minutes on the flight, and woke with 3 new recipes and the title for my first cookbook "MidNight Inspirations". The 2015 WFC proved to be my best outing ever with 2nd Place in the Red Chili category, but due to some plating issues, my finish was not quite what I had hoped for. But with the help of new friends, and a better perspective as to expectations, I plan to prove that Chili can be a contender! In 2015, I had the opportunity to compete with a Chef for the Stars as my Sous Chef, and he convinced me about 2 weeks out that I had nothing to worry about. and I would be in the Top 10! Going into the final round, I had a 2nd Place Dish, and was my 1st Top 10 ever! Several Chicago Chefs jumped in to assist me in the final round, and we created my amazing Chili Lasagna for all to enjoy! In addition, I was ask to assist the Event Chef to prepare dishes for the VIP's, and created about a dozen new untested chili recipes for them, and also for the Grand Tasting at the end of the event! In 2017. a special event to recognize and honor Police, Fire, and Military ' and I finished in 2nd Place! So, 2018 hit and over the previous year, I decided to expand beyond just CHILI, and took on other categories with great success with numerous 2nd Place Finishes against some tough competitors. Continued to take on whatever I could to prepare for 2018. As a result, 2018 was my 2nd Top 10 with finishing in 3rd Place at the WFC losing by less than a point & a half. 2019 was also very successful with another Top 10 Finish only losing by less than 4/10th of a point. 2020 has hit, and a decision was made to merge CHILI into a new Category - SOUP! That actually didn't bother me because Cincinnati is known for our own style of chili, and being a Greek origin, in reality is considered a SOUP! So and look out WFC because CHILI ROCKS THE WORLD!