We're excited to see the field of competitors who have already won their golden ticket and registered to compete at the 2022 World Food Championships. And we are always proud to announce our special guests and celebrity judges participating in our judging events across the nation - we're sure the championship food certainly helps! Best of luck to our 2022 competitors!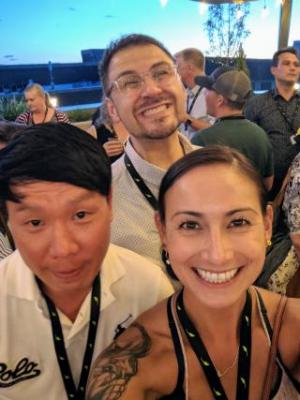 COMPETITOR
Thomas Cuisine
HEAD COOK: Young (Thomas) To
COMPETITION: Bacon World Championship
Thomas Cuisine Dream Team! Thomas To: Sous Chef at Harrison Medical Center in Bremerton, WA. Tommy brings an incredible level of culinary prowess to healthcare food service. Whether it is perfectly executed dishes at the Harrison board dinner, an intimate, plated meal at the hospital president's home, or a simple delicious appetizer spread at the local entrepreneurial social, Tommy rocks all things food. He accomplishes this while still completing operations tasks like inventory, orderings, building schedules, and creating seasonal menus for Harrison's on-site cafeteria. As part of Thomas Cuisine, Chef Tommy brings in fresh, real, unprocessed ingredients whenever he can. Natural food is the focus for patients, café patrons, and special dinner guests alike. Outside of work, Tommy likes to attend concerts and try food from all over the globe. He is loved by his wife and fur babies and spends many nights making amazing meals for all of them. Hondo Grigsby: Hondo is the Food Service Director at Highline Medical Center in Seattle, WA. Hondo is never far from a catering or special event, bringing his dedication an organization to every breakfast, lunch, or dinner. He is not afraid to pick up a knife, or help unload a truck full of fresh produce. Hondo makes frequent trips to new Thomas Cuisine accounts to assist with inspiring front and back of the house staff about real, honest, delicious food. His smile and dedication to the industry is contagious. Some may find it ironic that a vegetarian would feel compelled to assist in a Bacon competition, but Hondo is just that kind of friend and teammate. He thrives on helping others achieve success, and that love comes through in his cooking and attitude towards life. Hondo is a true world traveler, known to disappear to Vietnam, Japan, Korea, Thailand, or Cambodia for adventures of unimaginable cuisine. Liz Oba: Liz is the Food Service Director and Catering director for the Eating Recovery Center in Denver, CO. Liz started her professional career as a Clinical Dietitian at Harrison Medical Center but was quickly asked to join the Thomas Cuisine team as a Manager in Training. After sharing a year in the kitchen with Tommy, she accepted the director position in Denver. There, she revamped the catering department, earning the trust and respect from the client with her scratch cooking and completely customized approach to meals. Liz oversees the food service department for patients recovering from eating disorders, so every portion, plate, recipe, and ingredient has to be exact. Liz's passion for food and nutrition carries over to her home life where she is constantly trying out new techniques, new fruits and vegetables, and absorbing new ways to plate and cook. Phone calls to chef friends across the country are a regular occurrence. Self-taught should not be underestimated. When not obsessing over food, Liz can be found on a soccer pitch, in the boxing ring, or running up a mountain. Food is fuel and Liz puts that fuel to the test, at home and in the kitchen. Thomas Cuisine is bringing home the Bacon in the Bacon category! More from Tommy, the Head Chef for the team: I am a fine dining chef classically trained in French cooking, and now working as a Sous Chef for Thomas Cuisine. When I graduated from high school, I really did not know what I wanted to do. I happened to get into cooking by watching a late night commercial for Le Cordon Bleu and enrolled the next day. After my first class, I knew I found my calling. I later graduated from Le Cordon Bleu with top honors. I interned at Roppongi, worked for Jean George's J.G. Grill, and was part of the team that catapulted the restaurant to being #1 in Utah. I also worked for A.R. Valentin, a fine dining establishment part of the Evans Hotel group. I have over 10 years of experience in this industry. In this time, I've had my share of successes and mistakes, highs and lows - but I wouldn't trade it for anything in the world. This industry has allowed me to train under some great chefs who have expanded my knowledge, and take all that I've learned and put it into my real passion: fusion cuisine. My current job as a Sous Chef, allows me to execute these ideas for clientele when we have a catering request. All the client has to tell me is their theme, what types of food they like or don't like, and within a few hours I can create a menu off the top of my head. Not many people can say they have a chance at their job to do what they love, and I'm one of those fortunate people that say they can. Now, I'm hoping to take my ideas to the competition scale, have fun with it, and maybe inspire someone along the way to go for your dreams. Even though the culinary industry is becoming more competitive and difficult to navigate every day, I will be there every day because it offers me the chance to do what I love.