We're excited to see the field of competitors who have already won their golden ticket and registered to compete at the 2020 World Food Championships. And we are always proud to announce our special guests and celebrity judges participating in our judging events across the nation - we're sure the championship food certainly helps! Best of luck to our 2020 competitors!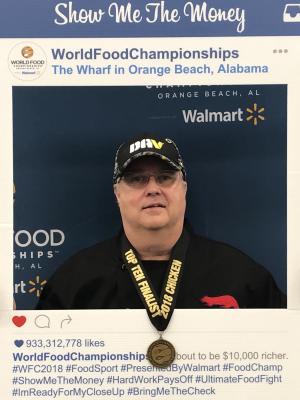 COMPETITOR
G-Pa D's BBQ and Culinary Competition Team
HEAD COOK: David Adams
COMPETITION: World Sandwich Championship
My Name is David Adams Walmart Fresh Chef Sandwich Champion and Certified Pit-Master for G-Pa D's BBQ and Culinary Competition Team from Spokane, WA. 2019 Will be My 4th Year at WFC, 2016 Steak (Sous Chef Hoakie Smoakes), 2017 Burgers (Head Chef G-Pa D's) and 2018 Chicken (Sous Chef Hoakie Smoakes) and in 2019 Sandwiches (Head Chef G-Pa D's), in 2018 We finished 4th place Chicken with our Structured Build 99.625% being the Highest Score for the entire Chicken Category and in 2016 sous-chef for Christene James of Deena's Cantina Chili in the Chili category finals taking 3rd place. Per The National DAV we are officially sanctioned and representing "Disabled American Veterans" We just finished our 7th Season of Competitive BBQ and have won multiple awards in all 4 competition meats and in side categories. I am a former 2014 WFC Judge in Seafood, Desserts, Sandwiches and BBQ, a Certified PNWBA BBQ Judge. . My culinary journey began as a young child living with the Makah tribe on the Neah Bay reservation in NW Washington St. My 20+ years in the USAF has exposed me to the culinary treasures of Countries from S.E. Asia to the Middle East, Europe and all over the U.S.