We're excited to see the field of competitors who have already won their golden ticket and registered to compete at the 2022 World Food Championships. And we are always proud to announce our special guests and celebrity judges participating in our judging events across the nation - we're sure the championship food certainly helps! Best of luck to our 2022 competitors!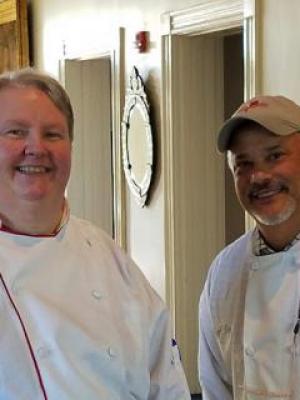 COMPETITOR
Jon Turner
COMPETITION: Soup-Or-Bowl Sunday
Jon Turner is from Birmingham, AL. He comes to the World Food Championship as a late arrival. Formerly he was sous chef for 14-year-old chef Fuller Goldsmith who unfortunately had to withdraw. Jon is the Captain of Team Alabama and accepts the late challenge with enthusiasm. Former "Big Al'' and cheerleader for the University of Alabama, retired attorney and senior military officer, his fascination for cooking began as a small child on his grandparent's farm. Throughout high school and college, he worked in several restaurants, and following graduate school attended Jeff State's Culinary Program. Instead of pursuing his dreams, he went to law school. Years later, after retiring, he returned to his passion for cooking and completed two additional culinary degrees at Culinard. He has worked for several restaurants and caterers and is the chef at Simply Infused and further works as a private chef. His true passion is teaching and working with the homeless, veterans, and young adults. As a native of Tuscaloosa County, Alabama, Cherri Koester found her calling in the kitchen early on in life while going to work with her mother in a small deli style store. She credits her mother's incredible cooking and leadership skills for inspiring her to be a chef and having passion for life. She spent the next 24 years in the production industry all while having kids of her own and helping friends in their catering businesses and bakeries when time allowed. After making the decision to follow her dream to be a full-time chef, she enrolled at Culinard at Virginia College in Birmingham, Alabama, where she graduated in 2009. She completed externships at locations such as The Cahaba Grande Conference Center and the Pelham Civic Center. Cherri was hired as an intern by Southern Foodservice Management in 2009 as a Pastry Chef and Line Cook at The University Club located at The University of Alabama. In 2010, she also was hired as a Pastry Chef at Capstone Village Retirement Community, also at the University of Alabama campus, where she spent time honing her baking skills. After spending time with several incredible chefs at The University Club, Cherri was promoted to the Sous Chef position in 2011 bringing her creativity to southern dishes. In 2014, Cherri was named Executive Chef of The University Club and has strived to bring other cultural influences to her daily menu while still serving fresh locally grown southern fare. In 2016 during National Sandwich Month, Chef Cherri won the Nature's Own sandwich contest by entering her Pilgrim sandwich. In 2018 along with Sous Chef Markeisha Blair, Chef Cherri won the SCA sanctioned appetizer round at the 2 nd Annual Operation Tiger Paw Steak Cookoff with a delicious dish titled El Diablo Shrimp. Also in 2018, Chef Cherri collaborated with the Yuengling family to feature a recipe on the nationwide Yuengling website that uses Yuengling beer.