We're excited to see the field of competitors who have already won their golden ticket and registered to compete at the 2018 World Food Championships. And we are always proud to announce our special guests and celebrity judges participating in our judging events across the nation - we're sure the championship food certainly helps! Best of luck to our 2018 competitors!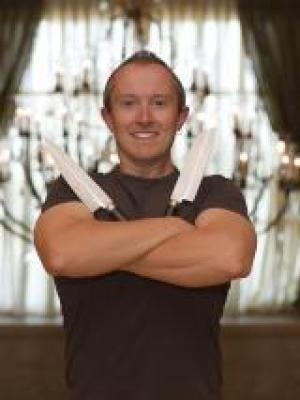 COMPETITOR
Phillip Dell
COMPETITION: Smithfield Smokin' Hot Challenge
I have been both a winner and a loser-and equally successful at both. Allow me to explain: I am an award winning chef, a competitive natural bodybuilder, three-time world champion powerlifter and an individual who lost 92 pounds and kept it off for years! So you see, I am equally successful as a winner and a loser. Picture a young boy sitting in front of the television watching his favorite cartoons on a Saturday morning—a typical scene played out in most households. Not so for young Phillip Dell. He traded Bugs Bunny for chefs like Martin Yan and Justin Wilson and filled his Saturday mornings with cooking shows on PBS. As he grew up, his love for all things culinary only grew stronger. At an early age, Dell realized his life would revolve around food—all he wanted was to become a chef. Whether it was helping his mom decorating a cake, baking, or making dinner, he was there. By the time he was 8, he was making 3 and 4 course meals for his family. At the end of summer every year, Dell stayed with his grandparents to help with the annual pig roast put on by his grandpa and uncle. That's where his love for barbecue really started to develop. After acquiring a Certificate of Culinary Arts at Traverse Bay Area Career Tech Center and a degree in Baking and Pastry Arts, from the prestigious Johnson & Wales University in RI, Dell spent several years competing and placing in barbecue contests in the Midwest. After life circumstances took Dell out of professional barbecue for over a decade, he returned to the circuit in 2013 and has spent the last several years honing his skills and refining his flavor profiles to please the palates of the West Coast judges. Professionally, Dell went from being a butcher's helper at Deering's Meat Market in Traverse City, MI before college to Pastry Sous Chef at Wynn-Las Vegas several years after college—all prior to owning an upscale private chef company, Sin City Chefs, and, more recently, CPD Enterprises, a culinary consulting and catering firm. He has also spent the last few years as a high school culinary instructor where he developed the program from humble beginnings to the only comprehensive high school program with a professional kitchen. Throughout his lifetime, Dell has earned numerous awards, including the title "Chopped Champion" on the Food Network's Chopped "Cook Your Butt Off" competition, National Educator of Excellence by the National Restaurant Association, and 2016 Teacher of the Year by the Nevada Cattlemen's Association. And, in 2017, he has set his sights on the World Food Championship. Additionally, Dell loves to spread his passion for food through teaching classes, and he is a regular on SOS radio (SOSradio.net). The smoke rarely clears and the fire never gets cold for Dell, but you can bet that when it does, you will see him in the kitchen, cooking next to his amazing wife, Leah.