We're excited to see the field of competitors who have already won their golden ticket and registered to compete at the 2022 World Food Championships. And we are always proud to announce our special guests and celebrity judges participating in our judging events across the nation - we're sure the championship food certainly helps! Best of luck to our 2022 competitors!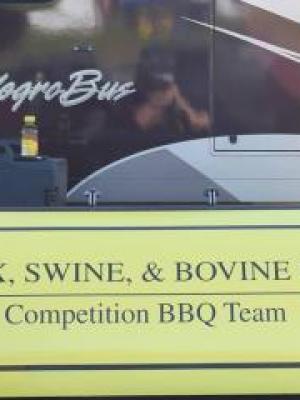 COMPETITOR
CHIX, SWINE & BOVINE BBQ
HEAD COOK: Mike Richter
COMPETITION: World Barbecue Championship
I am Mike Richter, Pitmaster for CHIX, SWINE & BOVINE Bbq. My wife, Barbara, handles the sauces and other secret weapons – including keeping us on track during the contests! Our Australian Shepherd, Bonnie, travels with us to every contest, and is well known on the BBQ Circuit – having her photo on the cover of the KCBS Bull Sheet a time or two! Chris Owen and Paul Sobwick, both friends of many years, come when their schedules allow, to jump in and help as well. Our friends Laurie and Harry Bright (also retired) travel with us to most competitions. We love to have fun and enjoy the social aspects of BBQ, and our BBQ Family is an amazing group of people. But we are all extremely competitive! CHIX, SWINE & BOVINE Bbq. started competing seriously in 2008. Prior to that, competing was an excuse for a party – a couple of competitions a year with buddies, and "partaking" a little more than cooking. Then we got serious! In 2008, we won our first Grand Championship in Louisa, Virginia and received our first invitation to the Jack Daniels World Championship BBQ Competition in Lynchburg, TN. We also competed in our first American Royal Open and Invitational Contests. We received calls at both the Jack and the Royal and we were hooked! My wife and I are retired and our full-time jobs are now BBQ! We compete in 25-30 BBQ Contests annually, and try to include a new state every year. We are fortunate to have had some success along the way, winning 22 Grand Championships in 9 States, and many Reserve Grand Championships as well. We are very proud of all of our successes, but finishing as the Reserve Grand Champion at the 2014 Jack Daniels World Champion BBQ Contest in Lynchburg, Tennessee was definitely a highlight. We are excited to see what the future holds for CHIX, SWINE & BOVINE Bbq.