We're excited to see the field of competitors who have already won their golden ticket and registered to compete at the 2022 World Food Championships. And we are always proud to announce our special guests and celebrity judges participating in our judging events across the nation - we're sure the championship food certainly helps! Best of luck to our 2022 competitors!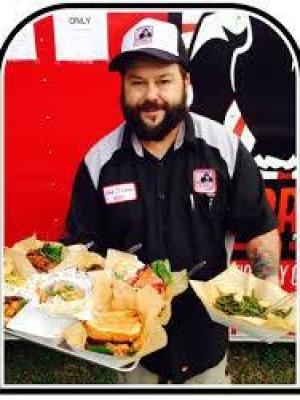 COMPETITOR
Guerrilla Gourmet
HEAD COOK: James Canter
COMPETITION: World Seafood Championship
As a chef of 30+ years I had the profound honor to cook for Hurricane Harvey victims within my community of Victoria, Texas where the storm made landfall. It has profoundly change my disposition and outlook on the hospitality industry and has prompted us at Guerrilla Gourmet to continue our "Pay What You Can" concept to help the needs of any of the folks in our community to get a hot and delicious meal in a comfortable environment. We have been able to feed 15,000+ affected folks by tragedies across the country, we were also honored to have over 500 volunteers from all over the globe, we also have been able to disperse almost $1,000,000,000 in resources to many affected communities in our region including Houston, Texas and our own seven county area, my view on my craft has profoundly changed and will forever be with me to encourage folks to help where it is needed the most. I was raised in a family that really loved to cook and gather around for the occasion and most of my family worked in my Uncle's seafood restaurant on the Chesapeake Bay in Maryland. I grew up around the many tributaries and brackish marshes of the Chesapeake Bay and the restaurant, I spent many a day's there while my Mother and  my other family members prepped, cooked, and geared up for nightly service, my summer babysitter was a culinary graduate from Culinary Institutes of America, basically the Executive Chef of my Uncle's Chesapeake Bay seafood restaurant. I was very lucky to have also toured Europe, the West Indies, as well as Iceland, and North Africa. These travels opened my eyes to cultural diversity and all cultures common thread, FOOD. I was always an adventurous diner and interested in cooking as a child and well into my teens so I decided to attend culinary school after I graduated High school where I was now transplanted to yet another bay town, Tampa/Clearwater Beach, Florida. While I was doing my apprenticeship at The Omni Hotel in Tampa, Florida I went on a trip to Los Angeles and for the first time on the West coast where my mind was blown with the diverse culture and their perspective cuisines, as well as the Californian food philosophy, I was completely hooked. From then on I traveled and went to work cooking, skateboarding and to live in San Francisco for many years as well as remote Alaska, Los Angeles, Chicago, Kentucky, remote Montana, Florida, Oregon, Detroit, North Carolina, Colorado and now South Coastal Texas. Myself, my amazing wife Maureen who has Korean culinary background, my wonderful oldest son Finn and twin boys Jack & Harlan live & work on our little farm, food truck, and restaurants here in coastal South Texas where we enjoy all that the culture and bounty offer and getting ready for expansion of our brand into the San Antonio/Austin/Houston markets.