We're excited to see the field of competitors who have already won their golden ticket and registered to compete at the 2023 World Food Championships. And we are always proud to announce our special guests and celebrity judges participating in our judging events across the nation - we're sure the championship food certainly helps! Best of luck to our 2023 competitors!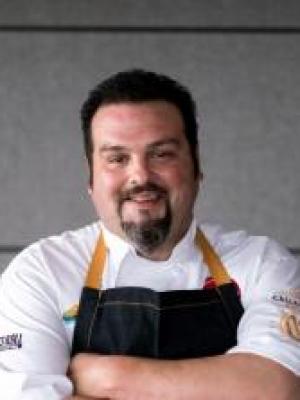 COMPETITOR
Chef Alex T. Brugger - Compass Group USA
HEAD COOK: Alex Brugger
COMPETITION: World Chef Championship
Executive Chef Alex T. Brugger, Personal Biography (Rev. 2016) Chef Alex T. Brugger's passion for the culinary arts came at a very young age, instilled by his grandmother, Aida. With working parents, she would watch him and his brother after school and they would prepare Cuban classics together on a daily basis. He would soon find himself both working in a restaurant while going to school. He began to work with great chefs like Norman Van Aken that took special interests and help mold him into the celebrated chef and very successful restaurateur that he is today. His 23 years in the culinary industry has allowed him the opportunity to hold Executive titles at a young age in many high volume restaurants such as Mango's Tropical Café on Ocean Drive. With The Cheesecake Factory, Chef Alex was tasked with helping to open several new locations including Grande Lux at the famed Multi-Billion Dollar hotel "The Venetian" in Las Vegas. He assisted Brio Tuscan Grille in the same fashion as a Regional Chef, opening restaurants in the South East. He was a Concept Chef for E-Brand's Samba Room where he collaborated with some of the industry's strongest players. His most recent independent restaurant in Orlando, "Citrus" won several awards including "Best New Restaurant" and "Best New Chef". He was featured in numerous national publications, winning acclaim for his latest menu creations. From there Chef Alex was summoned by the Bahamian Government for revitalization of a private Billionaire Island, "Cat Cay Yacht Club". Chef Alex was offered an experience not many chefs receive. It was there that he learned to perfect many authentic Bahamian dishes, some of which still grace his menus today. Chef Alex continued his work in the tropics where he was named Corporate Executive Chef for Whale Harbor Restaurant Group of the Florida Keys. With 5 outdated Concepts that needed revitalizing and rejuvenating, he had his hands full. Within 6 months' time, the "buzz was back" in the Keys. The new fare was a hit for locals and tourists alike. From there, Chef Brugger traveled north to open a series of restaurants in Central Florida by the name of JJ Fins Dockside. The concepts opened to much fanfare and were eventually purchased by Hurricane Grill Dockside, LLC, a national Multi-Venture corporation where they still thrive today. Chef Brugger then opened his opus, Finesse: The Restaurant where it opened to rave reviews in both social & international media with a 4 star rating. Chef Brugger closed the restaurant in 2012 after the arrival of his daughter to finally make time for his family. In 2014, Chef Brugger made his way north to be closer to family and became the Executive Chef of Bakers Best, Boston's Premier VIP catering company with nearly $20M in annual revenue for over 30 years. There, he entertained VIP clients, sports teams & facilities, large tech and startup corporations. In 2016 he was chosen by Compass Group USA and Chartwells Higher Education to become the Executive Chef of prestigious Babson College, the country's #1 Entrepreneurial Business College 23 years running. In September 2016, he went on to win Chefs Roll 12 – Boston and will represent Compass Group USA at the World Food Championships in Orange Beach, AL. He resides in Kingston, MA with his wife Autumn & daughter Isabella.