We're excited to see the field of competitors who have already won their golden ticket and registered to compete at the 2022 World Food Championships. And we are always proud to announce our special guests and celebrity judges participating in our judging events across the nation - we're sure the championship food certainly helps! Best of luck to our 2022 competitors!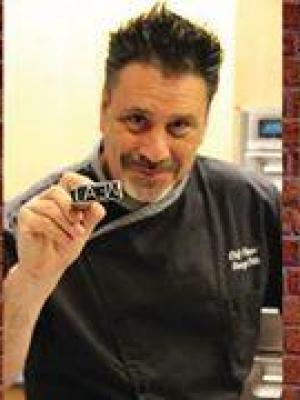 COMPETITOR
M.E.A.T. Eatery And Taproom
HEAD COOK: George Patti
COMPETITION: World Burger Championship
George Patti Executive Chef / Owner Chef George Patti wasn't actually born fusing world cuisines, but he began his love affair with food at an early age. His passion for experimenting with cross-cultural cooking began long before Fusion Cuisine had a name. He officially began his culinary career at just 14 years old where he prepared & smoked homemade brisket, pastrami, and prosciutto right in his father's deli located in New Rochelle, New York. Chef George took his childhood passion to new heights as he decided to attend Johnson & Wales Culinary Arts Institute in Rhode Island. Chef George explored and created the unique cuisine styles of Southern, Asian, and Latin food cultures. Chef was most inspired by fusing regional ingredients and tastes of these cultures by offering his own unique interpretation of these celebrated cultures. His path to become a successful chef and business owner lead him to his new life in South Florida and the Florida Keys. Chef George Patti's culinary resume is diverse. In 2009 he was the Chef and Co-owner of the popular Upper Florida Keys restaurant, Tasters Grille. Prior culinary experiences include his tenure as Executive Chef and Partner at Sweet Sop Restaurant in Ft. Lauderdale as well as positions as Chef de Cuisine at Louis' in Charleston, SC under James Beard award-winning Chef Louis Osteen; Sous Chef at Sfuzzi Italian Restaurant, Executive Chef for Odyssey Cruises as well as at Ten Penh all in Washington, DC. Currently Chef George is the Co-owner/Chef of a brand new modern gastropub concept named MEAT Eatery & Tap-room. MEAT's unique touch on modern American & Asian inspired classics has been warmly welcomed and recognized throughout South Florida as one of New Times & Palm Beaches Best New Restaurants. He has garnered high praise in both the Sun-Sentinel and the Miami Herald newspapers and been noted in USA Today Travel, 10 Best.com, Travel + Leisure, and Florida Travel and Life, among others. He was featured on the national television show, Finer Living and Diners, Drive-Ins & Dives. Recent local awards include Best Chef (thrice in the Keys and once at South Florida's Burgie Awards), and Best Overall Restaurant for Tasters, and has amassed dozens of awards from soup to seafood. His two favorite creations " The Inside Out Juicy Lucy" & " Dr. Jelly Finger" were just recognized as the "Best Burger In Florida" as well as the hands down winner in "The Boca Burger Battle", and the "Delray Bash" and was invited to compete nationally in the SOBEWFF/Rachel Ray Burger Bash 2016.