We're excited to see the field of competitors who have already won their golden ticket and registered to compete at the 2022 World Food Championships. And we are always proud to announce our special guests and celebrity judges participating in our judging events across the nation - we're sure the championship food certainly helps! Best of luck to our 2022 competitors!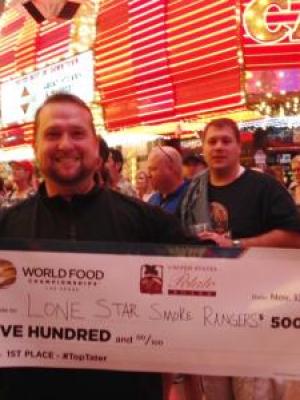 COMPETITOR
LoneStar Smoke Rangers
HEAD COOK: Tony Balay
COMPETITION: World Barbecue Championship
QUALIFYING EVENT: Hill City Wine Brew & BBQ
LoneStar Smoke Rangers enjoyed the World Food Championship in Las Vegas last year. We were fortunate to take 1st in the World Food Championship Top Tater!!! We came up with the name LoneStar Smoke Rangers from a former team member that passed away a few years ago. His name was Boyd Preckwinckle and he was a retired Texas Ranger. We took the Texas Ranger badge as our logo and fashioned the name. LoneStar Smoke Rangers team consists of my wife, Kim; our four kids, Doug, Matt, Carly, and Wyatt; my mom, Rosa and dad, Tony Sr.; my Shiggin brother-in-law Keith and sister Becky. I studied architecture in Europe in Grad School and had the opportunity to sample many different types of cuisines. Being able to open ones horizon to a whole other "Flavor Profile" helped me develop a little different spin on my own BBQ style. In the last 3 years LoneStar Smoke Rangers has won 13 Grand Championships and 4 Reserve Grand Championships. I am very proud of our team for that but I am most proud of the fact that we are returning to the Jack Daniels Invitational for the third year in a row. My favorite thing to smoke is a tough question....I know it sounds crazy but I love Smoked Meatloaf especially when it is wrapped in latticed bacon. My grandpa was a cotton farmer in Oklahoma and Texas during the Great Depression and would always tell my brother and I stories of life in those days. He loved smoked meatloaf and when it was wrapped in bacon he would call it Redneck Chateaubriand. Maybe it is just the poor redneck Okie/Texan side of my family but it is just comfort food to me. Nothing like leftover meatloaf on a sandwich with white bread and a little yellow mustard with some crispy potato chips and a Big Red to wash it all down with. My grandpa would say that's "Larrupin'!"