We're excited to see the field of competitors who have already won their golden ticket and registered to compete at the 2022 World Food Championships. And we are always proud to announce our special guests and celebrity judges participating in our judging events across the nation - we're sure the championship food certainly helps! Best of luck to our 2022 competitors!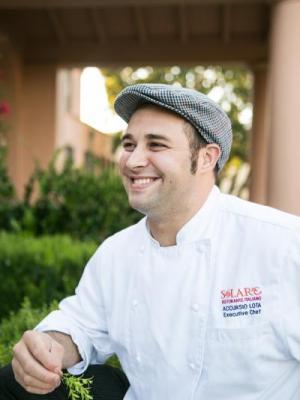 COMPETITOR
Solare Ristorante
HEAD COOK: Accursio Iota
COMPETITION: World Pasta Championship
QUALIFYING EVENT: Chef's Roll
I am originally from Menfi, a small agricultural town in Sicily, Italy. I grew up with centuries-old Mediterranean dishes made by my mother and grandmother using locally caught fish, local farm-raised meat, and fruit and vegetables from our own gardens. I am very attached to the land where I was born, and to the culture and the food. Growing up in an agricultural town on the Mediterranean, I was educated in the natural bounty of the place. Every November we harvest olives from our tree grove and take them to the local cooperative press, leaving with our own bucket of green, spicy oil that we pour on toasted bread and sprinkle with home-dried oregano. In the winter, we cut purple artichokes from the fields and bury them in hot ashes to cook. In the summer, we harvest eggplant, tomatoes and, of course, grapes for wine. I still remember when I was six and seven years old, helping my father pick grapes in the fields to take to the big winery in Menfi. As I got older, I would go down to our local port and find fresh-caught tuna, swordfish, octopus, calamari, red shrimp. In the evenings, we would line up with the neighbors at the small sheep and goat farms near my house, waiting with our own bowls or pots to fill up with fresh sheep's milk ricotta - still warm from the making. I've always known I wanted to be a chef. When I was just a baby, my mom would put a pile of flour and water in front of me to play with on our tiled kitchen floor. It was the only thing that kept me from crying. From then on I loved to be in the kitchen. When I was a five, I would come home from school and pull out the flour, sugar and milk and make crepes. When I graduated from middle school, and it came time to decide what I was going to study, I didn't have a question: I went to culinary school. Teaching Passion. When I was 18, I was chosen to represent my school at a National Culinary Competition. After graduation, I was given the opportunity to work with Sergio Mei at the Four Seasons in Milan. Sergio Mei is one of the finest and most respected chefs in Europe and, working closely with him, I could see why. Chef Mei gave me his passion for the Italian culinary tradition, the simplicity of pairing ingredients, and the search for inventive, but honest, flavors. I also learned the essential techniques of fine dining cuisine. Cooking for events such as the Scala Theatre opening in Milan – where we served 1,000 guests, including Italian celebrities, politicians and even the President of Italy, a six-course fine dinning menu – I started to see the combination of dedication, focus and artistry that a chef strives for in the kitchen. Cooking for the Next President. I transferred to California when I was just 22 to work at the Biltmore in Santa Barbara. This was my first experience cooking outside of Italy – indeed, outside of Europe – and it was eye-opening. The Biltmore kitchen focused on sourcing organic products from small, local producers. Although much of their inspiration was taken from Mediterranean cuisine, they combined other tastes and flavors to create something new. One of my most memorable experiences in Santa Barbara was when we catered a fundraising dinner at Oprah Winfrey's house in Montecito. There were going to be 2,000 people there, and 100 special guests. I was chosen to work alongside the Executive Chef cooking for the special guests. We were so busy working in the back of the house I didn't have a chance to see who we were actually serving until later in the night. When I got a break, I went outside and I immediately started recognizing faces from TV and the movies – Morgan Freedman, Eddie Vedder, Samuel Jackson. And then someone pointed out to me the Guest of Honor: Barack Obama. Just as I was going back in to cook, I heard some keyboards and a voice I recognized. It was Stevie Wonder, singing and playing right there in front of us at Oprah's dinner for the future President Barack Obama. I felt truly fortunate and honored to be cooking for that special dinner. The New Generation of Traditions. In 2009 I returned to Sicily where I joined with my good friend and former Four Seasons colleague, Onofrio Brucculeri at Hotel Imperiale. In my opinion, Onofrio is one of the great rising chefs in Italy. While at Imperiale, we hosted a cooking gala with Michelin Star Chefs Pino Cuttaio, Piero D'Agostino and Massimo Mantara. The day before the big gala, Onofrio and I cooked a private meal for Toni Sarcina and eight other travel and food critics from throughout Italy. At the end of the dinner, the critics all came into our kitchen clapping their hands. They said that they will never forget the dinner we made for them. It was a great moment because they placed our cooking on par with that of the other celebrity chefs – and because you could see the enjoyment in their faces. At Imperiale, Onofrio gave me the space on the menu to invent and perfect my own dishes. Through this creative freedom, I was able to develop my personal culinary style. I believe this style is what happens when Sicilian tradition meets a new, global generation. A Global Palate. I was able to hone my style when I returned to California and started cooking with Chefs Bernard Guillas and Ron Oliver at the Marine Room in La Jolla. Selected as San Diego's "Best Chef" numerous times by the Gold Medallion Awards (California Restaurant Association, San Diego Chapter), Chef Magazine, San Diego Home/Garden Lifestyles Magazine Readers Poll and San Diego Magazine People's and Critic's Choice, and having been one of only 14 chefs to be inducted into the International Restaurant & Hospitality Rating Bureau's American Chefs' Hall of Fame, I felt fortunate to be able to work alongside him. At the Marine Room I expanded my understanding of global fusion cooking, learning to work with ingredients from Korean, Persian, Indian and other famed cuisines. Fine Dining (Underground). In 2012, I wanted to explore my own style further with a special project. My wife and I started a restaurant club – Limone: Fine Dining Underground – where we served many-course meals to a small, select number of guests. Having complete creative control and freedom with the menus, I had a blast. We designed events with themes related to the seasons, to geographic journeys, to moments in time. And using our small kitchen as laboratory, I was able to explore new tastes, textures and presentations using molecular gastronomy, haute cuisine and traditional Sicilian techniques to hone my personal style. In the six months that we put on events, we were recognized by the San Diego Reader, Edible Magazine, Slow Food San Diego, and chosen by San Diego Magazine in its "Best Of 2012" issue. It was a great experience to bring something new to the culinary scene in San Diego, and to meet others doing the same. Solare. In November 2012 I became Executive Chef at Solare Restaurant and Lounge in Point Loma. I look forward to the new joys challenges presented by coming back to Italian cuisine with a new appreciation for global and local San Diego audiences.