We're excited to see the field of competitors who have already won their golden ticket and registered to compete at the 2022 World Food Championships. And we are always proud to announce our special guests and celebrity judges participating in our judging events across the nation - we're sure the championship food certainly helps! Best of luck to our 2022 competitors!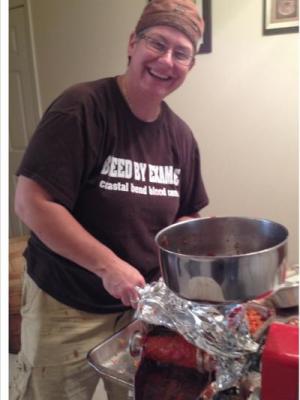 COMPETITOR
Island Chefs
HEAD COOK: Gail Huesmann
COMPETITION: World Recipe Championship
QUALIFYING EVENT: Perfect Puree
I cook for fun. I cook for life. To me food is more about being with people, feeding people's stomachs but nourishing their souls. Though I've been in the food service/hospitality industry off and on since 1984, I've been eating all my life. That makes me a food expert! I know what I like... which is pretty much everything. I grew up on some very traditional Virginia comfort food. Dishes that were based upon hundreds of years of family meals (primarily using whatever the heck there was on hand). The chef instructors I had many years later provided me with some of the most solid classical cooking techniques as well as the science behind them. When I became an instructor myself I tried to ensure that my students would be able to go out into the world and cook... no matter what circumstances came their way in a given day. Because, to me, food is about "family", being with others, sharing time, conversation and likely a glass of wine or beer. Having traveled around the US and parts of the world, I have eaten some rather bizarre foods. My favorite challenge is to get home and combine what I know with what I've learned to make new combinations that evoke good memories and build new ones. Last year, not long after the WFC, I traded the wild winters of Chicagoland for a beach existence in the Coastal Bend area of Texas where I have become the Food and Beverage Director at the Black Marlin Bar & Grill in Port Aransas. Now my palate is applied to tasty beverages and cocktails as well as food and I spend my days and nights ensuring our guests have a wonderfully memorable dining experience. "Life is good today."