We're excited to see the field of competitors who have already won their golden ticket and registered to compete at the 2022 World Food Championships. And we are always proud to announce our special guests and celebrity judges participating in our judging events across the nation - we're sure the championship food certainly helps! Best of luck to our 2022 competitors!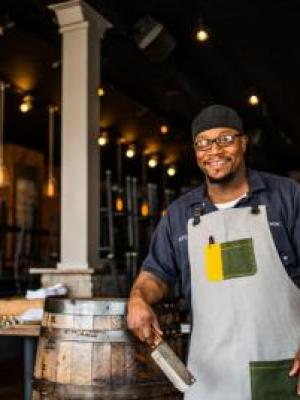 COMPETITOR
BOOM
HEAD COOK: Marcus Meacham
COMPETITION: Bacon World Championship
QUALIFYING EVENT: 2013 World Food Championships
The new concept – run by Michael and Louie Pappas, of Tommy's Diner and Milo's Deli fame (Columbus, Ohio) – takes over the former Easy Street Café at the same address (5 S. Liberty St). And their 21st century saloon has a helluva sheriff in Chef Marcus Meacham. Already a local food hero for his inspired creations that flowed out of Barrio and Bodega's kitchens, Meacham also won the North Market's Thrilla at the Grilla competition, repped C-bus at the World Food Championship's Bacon World Championship, and this month (this past July) will appear on Food Network's Cutthroat Kitchen. Not only has he put his stamp on the menu, there are clues to his passions on the wall. Look closely at the pig and steer diagrams – see that little OU Bobcat print, that little Wu-Tang "W"? They spell out "Chef Meach was here." He is clearly in his element at Kraft House. He's taking comfort food and running it through his personal creative blender, emerging with a tasty familiar experience that makes diners pause, reflect, and enjoy. For example, taking a bite of chef's mini smoked lobster rolls is a bullet train to the New England shore – then again, there's a flavor in there that's different, – oh! it's vanilla. The buttery bun and aromatic vanilla play hide-and-go-seek with the smoked lobster and add up to a precious little bite of an appetizer ($13 for a pair). Also on the appetizer front are a Brēzel Pretzel with a homemade mustard/orange habanero sauce ($7), a chili-flaked, herby mac and cheese ($6), and the Shank in a Blanket ($8). About that last tongue-twister (just try it), it's Chef Meach's rockstar take on the '70s favorite, pigs in a blanket. Chef takes a braised-to-optimum-flavor pork shank, wraps that little leg in rosemary pastry dough, deep-fries it, and then serves it in a rich pork-tacular broth. It's not a huge pork shank – more Bam Bam than Fred – and the rosemary rubs the pork just the right way.