We're excited to see the field of competitors who have already won their golden ticket and registered to compete at the 2022 World Food Championships. And we are always proud to announce our special guests and celebrity judges participating in our judging events across the nation - we're sure the championship food certainly helps! Best of luck to our 2022 competitors!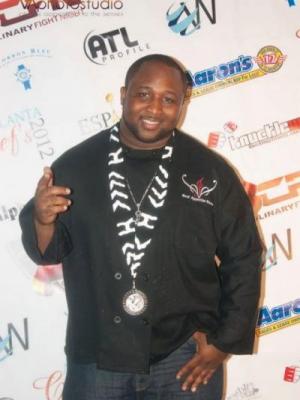 COMPETITOR
Chef Jernard
COMPETITION: World Sandwich Championship
QUALIFYING EVENT: Tastemaker's Choice
With a great sense of humor, Chef Jernard has been called, "the young Barry White of food." Making vast appearance's on The Food Network (Chef Wanted with Anne Burrell, Paula's Party & America's Super Nanny) He is an author of an Amazon best-seller Cookbook 88 Ways to her heart. The book focuses on cooking demonstrations and helpful tips in the kitchen as well as terrific ways to start sparks in a new relationship or keep the sparks sizzling for those already in love. His new book, The Weight of Expectations2, focuses on the expectations of life and achieving greatness spiritually and through healthy eating his new book is on track to hit the New York Times Best Seller List. Chef Jernard is the winner & recipient of the Patrick Clark Honor 2010,2011 & 2012 Chef of the year of the USA, 2011 Travel Fiery Flame International Chef of the year, 2011 March of Dimes Signature Chef Gala Winner, ACF member Chef Jernard's compelling and inspirational personal story: • Growing up in Mississippi, his father taught Chef Jernard how to maneuver through the kitchen before he passed away as a young child. • To help support the family, Chef Jernard began a restaurant out of his family's kitchen when he was a junior in high school. It became immediately successful and within a couple of months, his fledgling business was bringing in thousands of dollars a month • He founded two successful restaurants in the Memphis, TN metro area before moving to Ringgold, GA in the summer of 2007. • On Father's Day, 2007, Chef Jernard and Barack Obama were two of the featured guest chefs at 20th anniversary celebration of the venerable Real Men Cook event in Chicago • Chef Jernard travels the US teaching couples the art of Love Cooking. He also teaches how to Grill the perfect steak & prepare healthy foods even for those with dietary needs. • Chef Jernard is a proud supporter of the non-for profit organization, First Things First, which teaches couples about love, cooking and working through marital issues • Chef Jernard was the host chef for Senator Jeff Mullis at his "Top of Georgia" economic development event which was held to kick off new economic development opportunities in Georgia. • Chef Jernard is a supporter and sponsor of the Jr Miss Pageant held locally in Chattanooga. He sponsors one of the scholarships which are donated to one of the top three contestants. • Chef Jernard created a cooking show out of Direct Buy in Chattanooga called "Two Guys that Love to Cook" • He performed on stage with Paula Deen in front of the largest audience in Chattanooga with over 15,000 live viewers in July 2009 • Chef Jernard cooked for the Premier and First Lady of Bermuda's at Bermuda's International Love Festival brunch on Valentine's Day of 2010 which was held in Bermuda • Chef Jernard was on tour cooking for Tyler Perry and his team during their recent tour with his hit play Madea's Big Happy Family • Chef Jernard personally cooked for the rock band Lady Antebellum & The 70's Hit Band Heart. • Chef Jernard has appeared on the Steve Harvey Morning Show representing Glory Foods and his unique style of cooking using their products. • Chef Jernard now manufactures his own line of products under the trade name "Bon'appetite' Bistro, Heritage health Food & Le Chef Amours Haute Cuisine His motto is, "how could something so good be bottled up!" From Steak Sauce to Barbeque sauce & Exotic seasonings, his product line has any type of sauce or seasoning you need to make the taste just right. • Chef Jernard just recently launched Chattanooga Wing Company a Gourmet Hot wing restaurant making the pledge to giving the world a great product with great taste at the same time. • Chef Jernard has a new Foodie store in Chattanooga named Le Chef Amours Haute Cuisine where he offers unique cooking utensils, unique cooking products such as gourmet sauces and seasonings, and healthy cooking classes that teach unique ways to prepare foods that are not only good for you, but good to you!