We're excited to see the field of competitors who have already won their golden ticket and registered to compete at the 2022 World Food Championships. And we are always proud to announce our special guests and celebrity judges participating in our judging events across the nation - we're sure the championship food certainly helps! Best of luck to our 2022 competitors!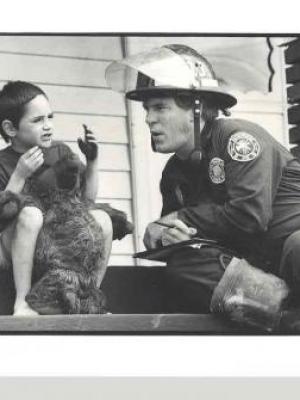 COMPETITOR
Chili Rocks
HEAD COOK: Geo Phelps
COMPETITION: World Open Chili Championship
QUALIFYING EVENT: WildCard
George Phelps, Retired Cincinnati Fire Fighter I was indeed honored to have been given the chance to cook in the 2013 World Food Championship, and to have the opportunity to cook with the best of the best in the World. The experiences and contacts made will continue to inspire me to master my cooking skills, and to expand my future opportunities. Looking forward to the opportunity to return next year with more knowledge and experience! See you in Vegas in 2014! During my 33 years as a firefighter, I had the opportunity to work with so many fellow firefighters that had a passion for cooking. Throughout my career, I picked up many tips for making chilies and other spicy foods. In addition to taking any opportunity to cook in the fire houses, I started to compete in charity chili cook-offs across the country. Through these events, I refined my cooking skills with the assistance of many of the best chili cooks in the country. When I first started competing I always felt that I could be creative and spent a lot of time trying to please the crowds with colorful booth setups. I won a lot of best booth and showmanship awards, but not for my creative cooking ideas. But what I found in competitions was that uniformity and almost cookie cutter style was what the judges were looking for. So once I started duplicating recipes that had won, started winning competitions. As a result, I competed in over six of the International Chili Society's World Chili Championships across the country. These were great learning experiences, but still I found that due to the limitations for what I feel is originality, I have not won at this point. I did still continue to win for my booth designs and decorating, but my true desire is to be known for my cooking originality and cooking skills. After my retirement due to many injuries and disability issues, I expanded my hobby to a small business. I decided to continue the team name of "Chili Rock Café" that my family and friends used in the local charity events, so I went to trademark my design. As a result, I received a cease & desist order from the Hard Rock Café and was forced to change my company name to "Chili Rocks" which now is not only my company name but also my company statement! Chili Rocks Chilies & Sauces is now going into our third year in business, and had 39 bottled sauces in our line, and is in the process of having our first beef chili product canned with our Chunky 'Nati Chili which is a Texas Style Chunky Chili with the Cincinnati Flavor. We are going to promote this as the Next Generation of Cincinnati Style Chili, and will be the biggest change in the 91 year of Cincinnati Chili History. It is my hope to successfully compete and to show that there is room for creativity in the world of chili recipes and recipes in general. I personally that I could add a new dimension to all or most of the categories for the World Food Championship, and actually have chili style sandwich recipes such as my Chunky 'Nati Double Decker Grilled Cheese Sandwich, my Chunky 'Nati' Chili Lasagna, my Chunky 'Nati Deep Fried Double Dog Coney, and my Chunky 'Nati Chili Cheese Burger just to name a few!