We're excited to see the field of competitors who have already won their golden ticket and registered to compete at the 2022 World Food Championships. And we are always proud to announce our special guests and celebrity judges participating in our judging events across the nation - we're sure the championship food certainly helps! Best of luck to our 2022 competitors!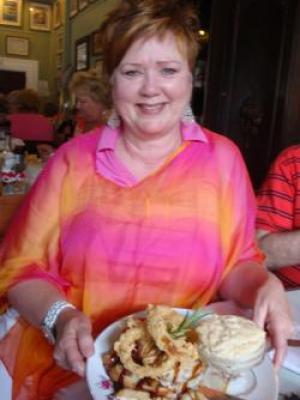 COMPETITOR
Jackie Mento
COMPETITION: World Recipe Championship
QUALIFYING EVENT: 2012 World Food Championships
When you tell your family you're going to Vegas guess who wants to come? That's right all 3 sisters are coming. What a hoot! Oh no, not to help me in the WFC cooking competition but just to gamble and sight see...... Charming, I say!!!! I can't wait to take part in this FUN, exhausting, exciting, lively, enjoyable, merry event. Watch out because the Jones girls are on their way to Vegas! I caught the food bug at an early age when my southern Mama made me the official biscuit maker. We had biscuits for practically every meal. From there I learned to cook more and more especially because (oh horrors!) my Mama did not like to cook. When I got married I felt liberated because I could cook anything I wanted to and I did! You can be a home cook cooking the same old boring meals or you can experiment constantly. People know when they come to my house they are probably never going to see the meal they are being served again unless I'm testing a recipe and then they may have to eat 3 versions of the same thing over the next 3 days! Years and years later after being in the corporate world I traded in my briefcase and bought a little corner deli. Turned it into an award winning specialty sandwich shop and catering business. After I sold it (still in existence today – so proud!!) it was time for me to fulfill my lifelong passion of entering recipe contests. Last year I was a runner-up in the Just A Pinch side dish contest (Thank you all you glorious JAP Tennesseans!) and received an invitation to WFC 2012. I then placed 9th in the WFC Side Dish Category. What a feeling! Ain't like nothing else! Big Southern girls are a force to be reckoned with all you executive chefs out there! Uh Huh! In fact I just can't have enough fun cooking at home so I created a recipe club in my hometown called Curious Cuisiners and now we get together monthly to eat (of course) and share recipes! Almost 100 members so just pure fun and delicious food! FOODIES UNITE! It's always nice to be recognized for your cooking and creative prowess and win a little cashola but the icing on the cake is to meet a bunch of like-minded foodies. So my cooking buddies let's party and get down with some GOOD EATS! One thing is for sure, win or lose I'm having FUN and bringing back a lot of memories and new friendships! Life is too short so "Live Madly" as my late Mother-in-love used to say.