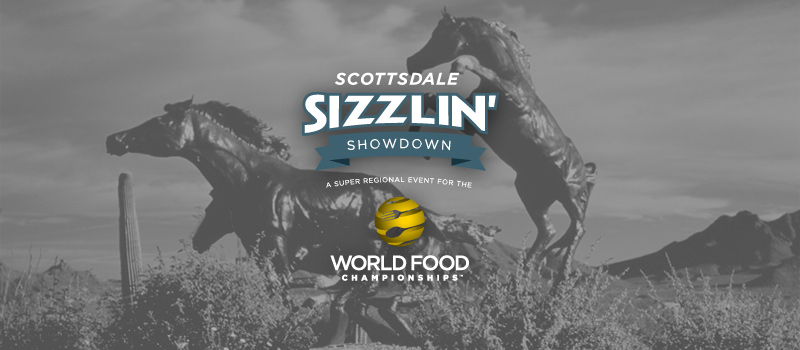 Ten Competitors Earn Golden Tickets at Scottsdale Sizzlin' Showdown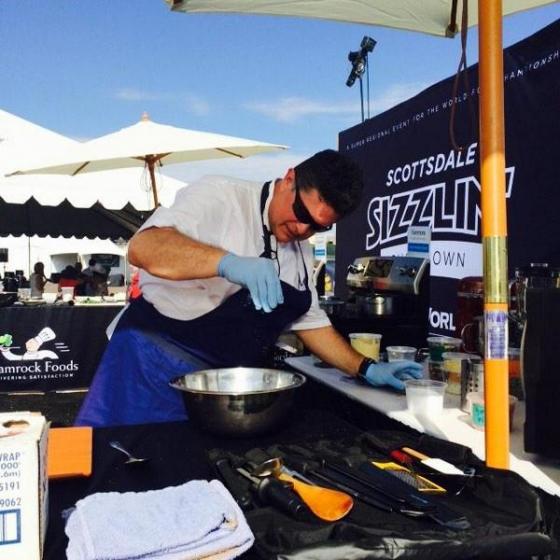 Winners of the Scottsdale Sizzlin' Showdown, a Super Regional qualifier for the World Food Championships, proved that they could literally stand the heat in the kitchen. As temperatures hovered in the 90s, more than 30 competitors and local celebrity chefs showcased their talents and temperature tolerance in an attempt to win one of the final 10 Golden Tickets to the ultimate food fight in Las Vegas, which will be held in November.
The showdown, a featured event at the Fourth Annual Bentley Scottsdale Polo Championships: Horses and Horsepower™, challenged home chefs and pro chefs to prove their talent in three key categories: cheese, seafood and sandwich.
The top three competitors in each category of the showdown won a cash prize ($1000, $500 and $250 respectively) plus qualification and free entry into the World Food Championships. The grand prize for winning the 400 competitor, 9-category World Food Championships is $100,000.
Results from the competition were as follows:
Seafood Competition
1st Place Gregory Wiener, Phoenix, AZ (Executive Chef the Buttes Marriott Resort)
2nd Place Frank Long, Strawberry, AZ
3rd Place Pa Jallow, Queen Creek, AZ (Student at Le Cordon Bleu Scottsdale)
Cheese Competition
1st Place Heather Bohannan, Phoenix, AZ (Student at Le Cordon Bleu Scottdale)
2nd Place Heather Walker, Scottsdale, AZ
3rd Place Adam Allison, Phoenix, AZ (Frank Food Truck)
Sandwich Competition
1st Place Merry Graham, Newhall, CA
2nd Place Matt Nosal, Scottsdale, AZ (Comfort Cravings)
3rd Place Matt Boling, Tucson, AZ (Beyond Bread)
Additional Golden Tickets were awarded at the event for extraordinary performances. Winners included:
Valerie Thodde, Scottsdale, AZ (Burgers N' Fries)
Brad Schwaner, Peoria, AZ
Lynn Hooker, Mesa, AZ
Lizzy Williams, Phoenix, AZ (Student at Arizona Culinary Institute)
Celebrity Chefs Duke it Out in Scottsdale Heat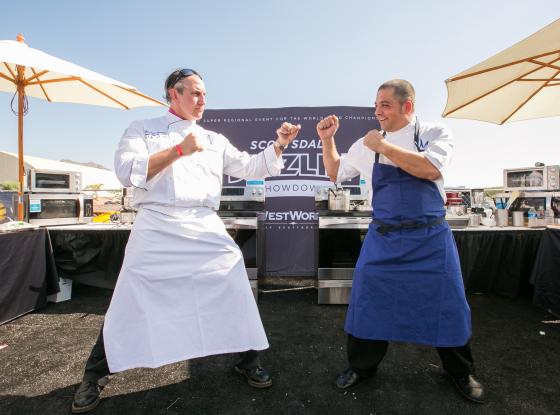 While local cooks and chefs battled it out for cash prizes and 10 spots at the World Food Championships in Las Vegas, one of the true highlights of the Scottsdale Sizzlin' Showdown was when notable chefs from the local area did their own throwdown in a special all-star chef's challenge.
Braving the scorching Scottsdale sun, six notable chefs all went head-to-head in a culinary exhibition that showed the true culinary genius of each great gourmand. To start the day, Chef Jon-Paul Hutchins, Executive Chef and instructor from Le Cordon Bleu Scottsdale, matched up with Pietro Vitelli, Executive Sous Chef for M Culinary Concepts, in a challenge to create a great pasta dish. With less than an hour and some great on-the-fly craftsmanship, Chef Vitelli produced a stuffed tortellini while Chef Hutchins opted for a harvest-themed pasta dish.
For the second challenge of the day, Chef Lee Hillson, Executive Sous Chef for the Phoenician, matched up against Chef Jon Clancy, Executive Chef for Levy Restaurants in a "Shrimp and Grits" battle. The two chefs impressed the festival on-lookers and judges with their elevated takes on the classic southern dish.
"The Shrimp and Grits dishes were a knockout," said Kari Karch, on-site emcee and Executive Chef for the Kenmore Brand. "Credit to both chefs for pulling off two unique interpretations of that classic."
Finally, in the main event for the all-star chef's challenges, notable Phoenix-area chefs Eddie Matney, owner/chef of Eddie's House, and Michael DeMaria, chef/owner of M Culinary Concepts, threw down in a meatloaf matchup. Both chefs lived up to their world-class reputations and produced two knock-out meatloaf dishes.
"Meatloaf is an american classic that has been a staple on family dinner tables for generations," said Karch. "That said, both Chefs took meatloaf and turned it on its side. The mastery that both Chef Matney and Chef DeMaria put into their dishes was truly impressive."
When all was said and done on Saturday at WestWorld, the first-ever all-star chef's challenge brought a culinary clinic to the Valley of the Sun. Special thanks to local partners: City of Scottsdale, Shamrock Foods, M Culinary, Challenge Butter and WestWorld for helping create an amazing day of culinary competition.
Photos from Scottsdale
See the video highlights