Celebrity Chef/Judge Profile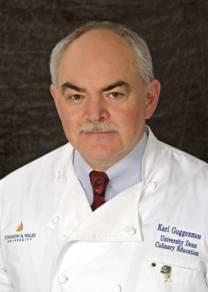 Karl Guggenmos
2013 WFC Judge

Karl J. Guggenmos, MBA
WACS Global Master Chef
Karl Guggenmos has served at Johnson & Wales University in Providence, Rhode Island, since 1988 and is currently the University Dean of Culinary Development. He was certified as a Global Master Chef by the World Association of Chefs Societies in 2008.
Previous to his tenure at Johnson & Wales University, Dean Guggenmos has extensive culinary experience across the United States as well as in West Germany.
Professionally, Dean Guggenmos is currently involved on multiple boards including Tyson Farmcheck, Christian Chef's Academy, the Salvation Army, Tulane University Medical School Teaching Kitchen, Starbucks Tastemasters and serves as the Chair of the National Certification Commission ACF. Dean Guggenmos has been a Board Member of the Institute of Culinary Arts of Germany since 2007, is a member of the VKD German Chefs Association, and has served as a member of the International Food & Beverage Forum for over 10 years.
Dean Guggenmos has participated in judging many prestigious domestic and international culinary competitions, including: as a Tasting Judge at the Bocuse d'Or in Istanbul, Turkey and just recently as a Judge at the International Chaine des Rotisseurs Young Commis Competition (also in Istanbul) where chefs from more than 20 nations competed.
In addition to being involved in various global keynote speaking engagements, Dean Guggenmos actively participates in consulting projects throughout the country.
We're pleased that he can join us as a Special Judge for this year's World Food Championships.