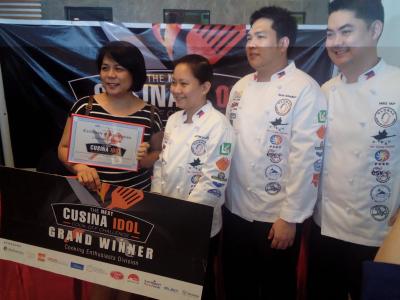 BEST BULALO
HEAD COOK: MERCEDITA MADRONA
COMPETITION: World Recipe Championship
QUALIFYING EVENT: Bulalo Recipe Contest
Im the 1st Filipina who made it to the World Food Championships 2013, though I'm not in the Top 10 (I ranked 14th-Recipe Category). Just to be a Lone Qualifier/Competitor from the Philippines, it's really a BIG DEAL and serves as INSPIRATION to many homecooks like me. After the competition, my sister & I extended our stay in America, doing our Culinary Tour (discovering America's local ingredients and incorporating it to Filipino foods.) From Las Vegas to Aneheim to Sta Clarita (Merry Graham), National City, Murrieta, Ocean Side, San Francisco, Bremerton, we cook and let Filipinos and Americans tastes our Dishes.
But this is my first Winter experience.....February 10, I was rushed at the Tri City Medical Center and the rest is history...now Im back! My Passsion in Cooking HEALED me!
March 15, we are back in the Philippines...lost almost 30 lbs, While under medications, I still cook. No sense of taste, no sense of smell, with severe headache...I still cook, I join cooking contests....I lost a lot of times but i didnt stop.
May 7, 2014 SELECTA DESSERT CHALLENGE GRAND WINNER - WE WON! But it's my 13 yr old son who prepared the winning granola that goes with Selecta Icecream.
But I still try my best to join all the cooking contest for me to qualify the WFC 2014 Recipe Category...QCNA BBQ - 2nd Place (Wow! Good sign already),
Then the World Trade Center Carinderia Fiesta BEST BULALO - 1st Place Winner (I made It).
And last October 11, I should say, the biggest CULINARY ACHIEVEMENT A FILIPINA HOMECOOK EVER HAD- I was awarded as the Next Cusina Idol Grand Winner 2014....P250k Grand Prize