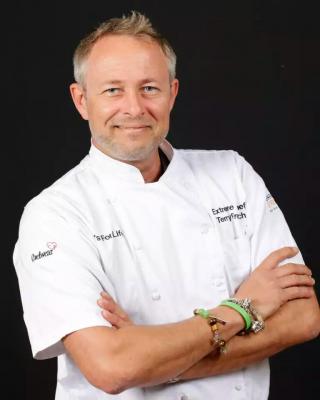 Extreme
HEAD COOK: Terry French
COMPETITION: World Seafood Championship
QUALIFYING EVENT: Chef's Roll
EXTREME Chef Terry French is not one to follow convention. He puts passion and fun into the preparation of his food, making each bite a memorable experience. Whether it's an exotic dish or an exotic location, Chef French goes for Extreme Cuisine every time. The results are sexy and often described as simply "bad ***."
Chef French can rule the kitchen, but it is his wild outrageous side, and his love for cooking outdoors that especially starts his heart pumping. Having all the tools a chef could desire is fantastic, but the challenge of creating exquisite dishes in adventurous situations and extreme elements truly ignites his passion and showcases his creativity. As long as he has fuel, materials and fresh ingredients, he can make magic happen.
In 2012, Chef French's unique experiences and approach to food made him the perfect candidate for the Food Network's Extreme Chef, taking competitors out of the kitchen and into the most extreme locations in the world. By the final episode, French found himself atop an elephant navigating the remote jungles in Thailand, then racing up hundreds of stairs to a Buddhist temple, where French lets nothing hold him back. After wowing judges with his "perfect bite," Chef French received the formal title of World Extreme Chef.