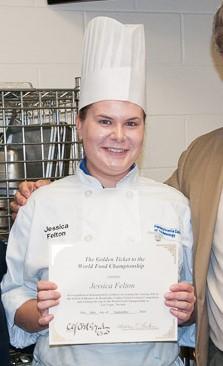 Pennsylvania College of Technology
HEAD COOK: Jessica Felton
COMPETITION: World Seafood Championship
QUALIFYING EVENT: PCT Student Challenge
My earliest memories are in the kitchen, with my mom, my grandmother, and even my dad. Food was always about joy, celebration, and family. I wanted to be a chef from a young age, but I somehow ended up down a different path. I still always found my way back to the hospitality industry.
It was while working for a local catering company that my best friend started to encourage me to pursue my dream and go to culinary school--it was the best decision I've ever made in my life. The past year and a half has been a whirlwind between culinary school, opportunities outside the classroom, and an amazing internship in Charleston, SC. I feel lucky to be in a field that I'm passionate about and surrounded by strong chefs and mentors.
My culinary interests lie especially with Lowcountry cuisine, charcuterie, nose-to-tail, seafood, and artisan methods.