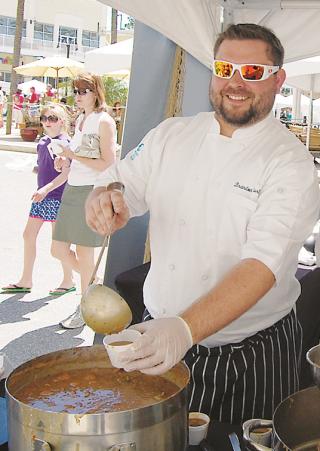 Voyagers
HEAD COOK: Brandon Burleson
COMPETITION: World Seafood Championship
QUALIFYING EVENT: The National Shrimp Festival
Perdido Beach Resort's Executive Sous Chef, Brandon Burleson, is a native of Georgiana, AL, a small town in south central Alabama. Chef Brandon has been at the Perdido Beach Resort since January 2012. Prior to that, he began his culinary journey at The Hotel at Auburn University and Dixon Conference Center and the Sandestin Golf and Beach Resort.
He is an avid supporter of his home state and the people and goods that hail from Alabama. He is actively involved in several charitable and volunteer campaigns using his platform to help others reach success.
Brandon is currently leading the Voyager's team at the Perdido Beach Resort to produce the prime quality that has grown to be expected from the resort by its customers. All the while using his experience with traditional Southern Cuisine and adding his own signature Gulf Rim twist, comforting dishes with exotic tastes and presentations. Brandon is also a proud member of the Front Porch Revival, a non-profit organization supporting the expansion Alabama Artisans.