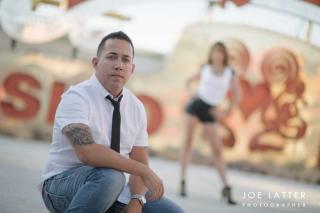 Paul Burboa
HEAD COOK: Paul Burboa
COMPETITION: Bacon World Championship
QUALIFYING EVENT: Big Bite Bacon Fest (Long Beach)
As a child Paul loved to be in the kitchen with his mother & grandmother, cooking and copying the dishes that they would make everyday and constantly learning from them. These meals, which Paul likes to reminisce about, usually consisted of biscuits, gravy and fried chicken. Everything was completely homemade, made from scratch as neither his mother, nor his grandmother bought anything "pre-made" in the stores.
As a young teenager, Paul's love for cooking increased while working at a BBQ stand in Oklahoma. There he learned to cook a variety of great BBQ dishes and gained a better understanding of making food that people line up to enjoy.
As an adult, although he was not working in the culinary field, Paul always enjoyed cooking large meals and having family and friends over to enjoy his food. After years of encouragement from friends, Paul finally entered his first cooking competition, the Big Bite Bacon Fest in August 2014, which he not only won, but also received the highest overall score for his Mexican Bacon Soup. Following that win, and knowing his love for cooking, Paul's wife has further encouraged him to re-focus his energy away from his current career as a VIP host & owner of Partylifevacations.com in Las Vegas to pursuing his dream of a culinary career.