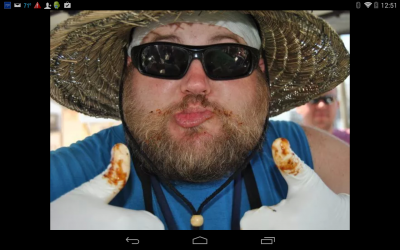 GoneHoggin.com
HEAD COOK: Paul Huff
COMPETITION: World Barbecue Championship
QUALIFYING EVENT: New Jersey State BBQ Championship
MY BEARD IS CAMERA-READY!!!!!
Year Started: 2008
Members:
PAUL HUFF
After 5 full years of competition, GoneHoggin.com bbq team is at the top of their game in competition bbq. . I feel that there is no team right that has the passion or sickness I display on a daily basis. I will cook a contest in my head everyday just to keep it fresh. I am always troubleshooting and creating new methods of cooking methods to keep my competitive edge.
For the most part I am a one man team, especially on the first day of competition. My brother comes in on game day to revive the cooking site with a well rested body. Two of my grand championships have been won on solo cooks by myself.
There is nobody out there that will out work me at a competition.
Remember don?t be the first to fall asleep or you will receive a visit from "The Machine"
The team currently has 3 members which include the following:
Head pitmaster Paul Huff aka "wookie" , "the machine"
Pit tender Eric Huff (Brother) aka "the snoring beast"
Head Parsley Princess Jennifer Huff (wife)
Hometown: Bear
State: DE
Country: US
Most wins in a year: 2
Biggest Wins:
In my 3rd contest ever I was able to win 1st place ribs against world champion pitmasters Johnny Trigg, Tuffy Stone, Myron Mixon on the first sean of TLC bbq pitmaster show
2009 Diamond State BBQ Championship Dover, DE
1st place ribs STATE CHAMPIONSHIP
2010 Smoke on the Water USA Barbecue Championship North Little Rock, AR
6th place overall out of 227 STATE CHAMPIONSHIP
2010 Keystone Classic Barbeque Harrisburg, PA
1st place Grand champion STATE CHAMPIONSHIP
1st place chicken STATE CHAMPIONSHIP
1st place ribs STATE CHAMPIONSHIP
2010 Que by the Sea Seaside Heights, NJ
1st place chicken STATE CHAMPIONSHIP
2011 BBQ & Blues in the Park Mount Holly, NJ
1st place Grand champion STATE CHAMPIONSHIP
1st place chicken STATE CHAMPIONSHIP
1st place ribs STATE CHAMPIONSHIP
1st place pork STATE CHAMPIONSHIP
2011 23rd Annual Jack Daniel's World Championship (Invitational) Lynchburg, TN
STATE CHAMPIONSHIP
2ND place ribs WORLD CHAMPIONSHIP
2ND place BRISKET WORLD CHAMPIONSHIP
10TH PLACE OVERALL (89TEAMS) WORLD CHAMPIONSHIP
2012 Middletown BBQ Cook-Off Middletown, DE
STATE CHAMPIONSHIP
1st place GRAND CHAMPION
2012 24th Annual Jack Daniel's World Championship (Invitational) Lynchburg, TN
STATE CHAMPIONSHIP
5th place BRISKET WORLD CHAMPIONSHIP
24TH PLACE OVERALL (87TEAMS) WORLD CHAMPIONSHIP
2013 DO AC Smokin' Hot Atlantic City BBQ Championship
1st place ribs STATE CHAMPIONSHIP
2014 Pig and A Jig BBQ Festival Snow Hill, MD(COOKED AS THE MACHINE)
STATE CHAMPIONSHIP
1st place pork STATE CHAMPIONSHIP
2014 New Jersey State Barbecue Championship North Wildwood, NJ
1st place Grand champion STATE CHAMPIONSHIP
1st place chicken STATE CHAMPIONSHIP
2014 26rd Annual Jack Daniel's World Championship (Invitational) Lynchburg, TN
STATE CHAMPIONSHIP
7th place CHICKEN WORLD CHAMPIONSHIP
LINKS ON
WWW.GONEHOGGIN.COM