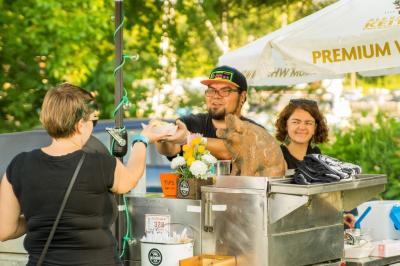 MeatVentures Meatwagon
HEAD COOK: Salar Madadi
COMPETITION: Bacon World Championship
QUALIFYING EVENT: Canadian National Bacon Championship
I'm a snowboarding, Halloween loving zombie enthusiast that also happens to be a lifelong cook, and the 2014 Canadian National Bacon champion. After 13 years in the IT industry I finally decided to take the plunge into the food business and opened a street food cart together with my wife in Hamilton, Ontario named the MeatVentures Meat Wagon.
We serve a variety of international BBQ, from Filipino Tocino sliders, to southern smoked chicken, to Korean chili braised pork belly, and even a candied bacon crème brulee! We've been running for almost 3 months now and I've completely fallen in love with this business and plan on going full time and opening a food truck.
At the beginning of 2014 I set a goal of qualifying for the World Food Championships in the bacon division and entered two local competitions. The first one I had to go solo without my wife, and ended up finishing in the middle. Luckily for me she was there to help at Q'ing for Life and we went on to win that one and our entry to the World Food Championships. Now my goal is to win the bacon division, become the World Food Champion, and use the prize money to build a food truck to fully realize my business vision.
Photo credit: instagram.com/brianandcamera