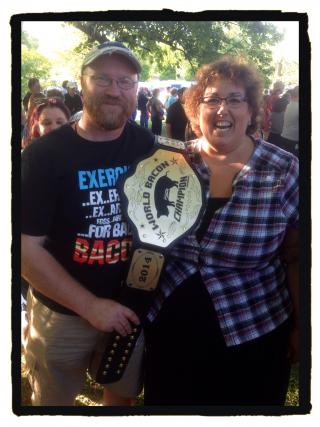 Delivering Smoke BBQ
HEAD COOK: Jennifer Gardiner
COMPETITION: Bacon World Championship
QUALIFYING EVENT: RocCity Ribfest's Bacon Championship
Our road to the World Food Championships began 6 years ago when I bought my husband Jeff a charcoal BBQ for his birthday. From there our passion for food and all things bbq has grown. We began competing at BBQ competitions 2 years ago. We had only competed in 2 competitions prior to winning the "World Bacon Championships" this May in Rochester NY.
We've been blessed by great friends and family who have supported us and advised us along the way ( some of them I know think this bacon thing is a little crazy ).
We're looking forward to our first trip to Vegas. And to testing our skills against some of the best cooks in the world at the World Food Championships.