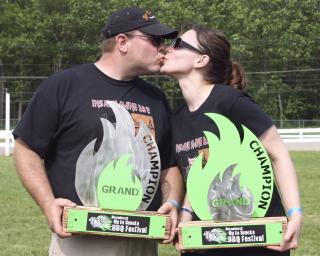 Insane Swine BBQ
HEAD COOK: Jared Huizenga
COMPETITION: World Barbecue Championship
QUALIFYING EVENT: 2013 World Food Championships
Jared and Suzanne Huizenga have competed as Insane Swine BBQ since 2008. Based in Worcester, Massachusetts, the husband-and-wife team excelled at grilling early in their competition career before transferring their success to barbecue.
2013 was a stellar year for the team, highlighted by their Grand Champion sweep of the grilling and barbecue competitions (their first barbecue GC award to boot) at the Monadnock Up In Smoke BBQ Festival; their 4th place overall finish at The Jack, winning 5th place chicken and 4th place ribs; and their success at the World Food Championships, finishing 2nd in the first round and 4th in the second round of the World Barbecue Championship.
Jared and Suzanne are thrilled to return to Vegas in 2014 to represent New England and cook some fantastic barbecue!