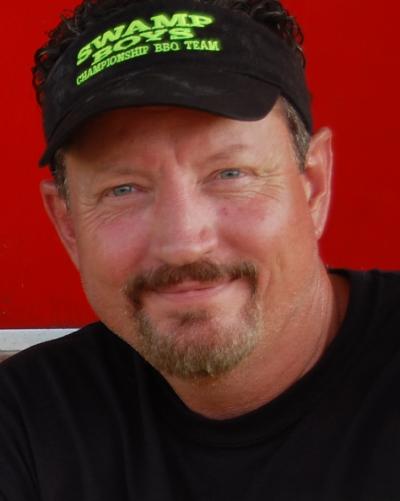 Swamp Boys
HEAD COOK: Rub Bagby
COMPETITION: World Barbecue Championship
QUALIFYING EVENT: Suncoast BBQ and Bluegrass Bash - Venice, FL
I have been competing in professional BBQ contests for 10 years, and my ribs, pork, and brisket have each won national titles. With almost 50 Grand Championships and close to 40 Reserve Grand Championships, we have been blessed.
I teach competition level Barbecue Classes aka "Swamp Boys Q School" three to four times a year in 5 different states and to well over 100 students.
I was hired to fly to Sao Paulo Brazil on 2 different occasions to teach American-style barbecue to a group of investors there who have since opened that country's first US styled BBQ restaurant to rave reviews.
I have just recently launched my own BBQ sauces for sale commercially.
I don't do barbecue for my primary job; it's just a hobby. During the week I am a Special Education teacher and have been at it for 25 years. In 5 years I will be able to retire from teaching and get serious about barbecue.