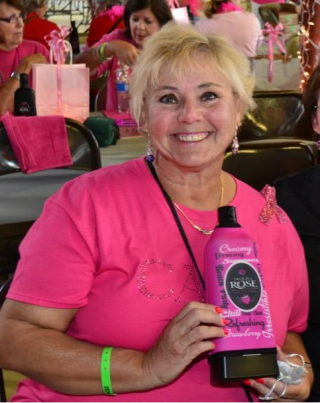 Maxboto Chile
HEAD COOK: Cynthia Whittenburg
COMPETITION: World Open Chili Championship
QUALIFYING EVENT: US National Open Chili Championship
I have always loved to cook. When the cooking channel came into existence, I would watch fatefully every Sunday morning.
Started making and eating all the different interesting dishes. Over time I started to venture off on my own style and would create my own recipes.
Once I prepared a dish to my satisfaction my co-workers and friends would be giving me there critics.
My profession was a NASA engineer in Houston (and a good rocket scientist too), a big difference from any kind of chef.
One evening dining with friends, we were discussing where to go to celebrate my husband's upcoming birthday.
I made the announcement that we would go to my house as I could bet any 5 star restaurant with my cooking.
The first dinner party starts out as a onetime deal. After watching Martha (you know who) the decision was made that I was going to blow my friends away.
I printed up formal invitations and mailed them to each couple with clear instructions on the attire and what type of wine to bring. The invitations clearly explained that guests were to arrive promptly on time and appropriately dressed. The invitations were received with a lot of joy and comments from my friends. Who sends out formal dinner invitations to your home?)
Guest arrived as requested and dressed. They were greeted by me escorted to the family room. As requested my friends did bring the appropriate wine as requested.
I had prepared appetizers for my guest along with the complementing wine. The set up was a buffet table with a listing of what each appetizer (course 1) was and the appropriate wine to compliment the taste.
At exactly 7pm my guests were escorted to my formal dining room.
(Really this room only got used for the holidays. I have for years had the appropriate formal china and crystal for serving an elegant dinner. But it always was never used at the holidays because no one wanted to hand wash in this day and age. I had decided that this would be my gift to my husband that it would be used and I would take care of the details.)
As the hostess my guests were asked to take their seats.
I proceeded to the kitchen and served the first course along with the appropriate wine. I described my dish to my guest and advised that all ingredients used were fresh and I have prepared them myself. Completely down to grinding my spices and making my own mustard.
I proceeded to remove the dish and proceeded to present the next course. I did this for 5 courses.
My husband and friends were amazed at the effort I put into this dinner and everyone was amazed at the dishes that was prepared for them.
I requested that my husband's friend, kindly move to the garage. I had set up a poker table with a selection of fine Scotches, Cognac and Cigars for their enjoyment. Announced, that this evening's final course would be served shortly.
To my guest's enjoyment, they loved the idea. Of course this was my husband's birthday and these were all his poker pals.
I returned to the kitchen and served my Ladies a cup of coffee and brandy before dessert.
What started as a joke with 6 couples had over the years grown to my last party of 40. (I still cooked, cleaned and served each course.) This became a tradition that lasted for over 10 years with each year trying to outdo the last.
Not all things stay the same, I found myself divorced, over 50, but still loved to cook.
So this is how the next chapter started with me discovering all the chili competitions in my area.
I started cooking with CASI, whose motto was Chili, Charity, and Fun. I love to cook! I love to cook competently, and I love my Chili family.
Year 2000, I won my very first; first place, and over 100 cook off later I'm still going strong. Below are some of my highest accomplishments in major events:
2010, 2nd place San Miguel, Mexico
2012, 4th place Ladies State, Texas
2012, 3rd place at the world food championship in red chili
2013, 3rd place, Terlingula, Texas
2014, 1st place, US Nationals, Buda, Texas
2014, 2nd place Louisiana State