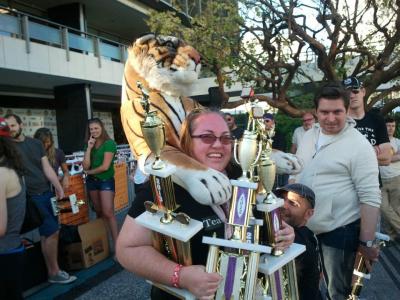 Team FigJam
HEAD COOK: Jennifer Vela
COMPETITION: World Sandwich Championship
QUALIFYING EVENT: Grilled Cheese Invitational (Professional Love American Style)
A Cordon Bleu graduate in 2001, I started out in the trenches of working at some of L.A.'s well-known restaurants and caterers such as Patina, Border Grill, and Good Golly Miss Holly. I decided restaurant life wasn't my jam, and after taking the time to be a Mom, I started my own personal chef/small event catering business, along with baking special occasion cakes and working on recipe development for others, I was able work out of my home to balance my work and family life.
One fateful day in 2009, I heard of The Grilled Cheese Invitational, and there I made my first forays into competitive cooking. It took three years of losing and learning lessons until I started winning awards: eight in total, in fact, starting in 2012. Four First Place trophies in total, along with a Special Executive Judge Award (the winning sandwich was featured as a special on The Grilled Cheese Truck) and the Spaz Award for 2013. With my First Place win in the Love, American Style category in 2014, I was able to make it to the World Food Championships! In getting ready for the Big competition, I've been taking on any competitive cooking contests in the Los Angeles area, and just recently took Third Place in both Judge's and People's Choice at the Mac & Cheeze Takedown.
I can't wait to get out to Vegas and compete!