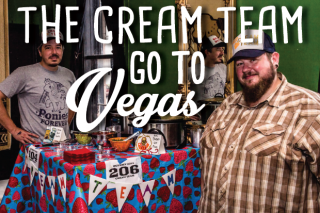 Cream Team
HEAD COOK: Brett Spangler
COMPETITION: World Recipe Championship
QUALIFYING EVENT: Austin Mac and Cheeze Takedown (People's Choice)
We are Brett and Paul - two tech industry stalwarts finding happiness and comfort in the kitchen, whether it be cooking, eating or hosting!
We met on the job at a video game company and immediately bonded over nerdy food things like sous vide machines, freeze drying ice cream and making homemade sausage. Eventually we started entering competitions as a team, with Brett's organized and whip-cracking wife Shrie as our project manager. Turns out... we're kinda good at this cooking thing.
We've won multiple chili, queso and mac and cheese cook-offs here in Austin in the last couple of years as The Cream Team. Now it's high time we up the ante by taking our homegrown culinary skills on the road to the World Food Championships in Vegas this November!