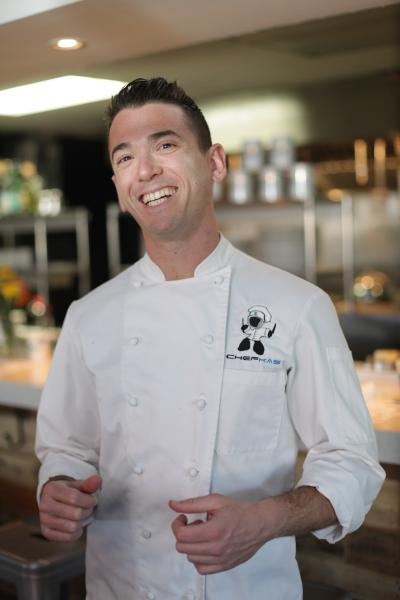 Adam Kaswiner
COMPETITION: World Chef Challenge
QUALIFYING EVENT:
ChefKas is the synthesis of two separate worlds: taste and nutrition. When he was ten years old, Adam's mom passed away due to complications with breast cancer in 1991. This jolt in perspective would eventually bring about the birth of ChefKas.
Adam's family was always athletic and health conscious, but after his Mom passed, Adam's Dad, Dr. Lee Kaswiner, took to fitness and health with an intensity Adam had never previously experienced. To this day ChefKas credits his father's refurbishing of their basement, into a full fledged training center with machines, benches, and dumb bells up to 100 pounds, as an initial spark in his relationship with health, diet, and fitness. The walls mirrored, the floors matted, Adam would spend many of his high school hours in that gym. His Dad also took up a fervent interest in nutrition, which had never really been part of his youth until then. Eating whole wheat pasta before it became ubiquitous, watching his Dad down Met-Rx shakes, and being exposed to strange vegetable purees and Asian-medicine drinks, Adam grew to have an understanding in food's function in health, fitness, and state at an extremely young age.
Meanwhile, Adam's Grandma - Bubbles - was spoiling him rotten. Every Friday Bubbles prepared meals for their family, making rack of lamb, roast duck, and perfectly tender filet mignon seem like a walk in the park. Everything always came out together, on time, and immaculately prepared. His grand mother's food set a standard in the same way that great, classically trained chefs, such as the great Daniel Boulud, have been inspired by theirs'. Later in his life, Adam's Grandma would impel him to go to culinary school, and even suggest incessantly that he should be on TV.
With both the impact of his father's "Eat For Life" philosophy of eating, as well as his Grandmother's "Live to Eat" mentality, Adam grew to appreciate both. As a wrestler on the state champion Minuteman wrestling team in New Jersey, Adam's relationship with food went a step further. He really became conscious of his own role and responsibility in controlling his diet. Not being satisfied with "healthy" (aka boring) food, in 1996 he asked Grandma Bubbles if she could help him make a turkey meat sauce, which at that time was completely abnormal. From his burning passion for biology, and his Dad's dabbling in nutrition, Adam was already beginning to understand just how important food's role was in our every day functioning.
Adam went on to double major at Emory University in biology and philosophy, graduating in 2003. He focused mainly in nutrition and exercise science, while also taking note of classes like Animal Behavior, and Primate Social Psychology. His philosophy degree also helped him develop his ability to analyze and make cohesive, logical arguments in favor or against certain ideas. All the while, Adam continued to train hard in the gym, and cook hard in the kitchen. All of the learning that took place during his college years really left Adam yearning to know more.
Looking to have a once in a lifetime experience, while simultaneously doing good for others, Adam decided to apply for and was accepted to join the Peace Corps. After 5 weeks graduation vacation backpacking throughout Western Europe, he shipped to Bangladesh...for 27 months. Never having learned a word of Bangla, never having even eaten curry, Adam was to spend 22-25 years old in this strange, strange place. While there, he learned Bangla, and he learned curry. He was also able to travel to magical lands like India, Thailand (twice!), Myanmar, and Nepal.
Upon his return to the States there was chaos at home, and no place for Adam to really settle. He moved to a yoga resort on the Big Island of Hawaii, and worked in the open air, daily fresh fish and produce kitchen, of a resort called Kalani H'onua, or "Heaven on Earth." It was during this time Adam's love and passion for the Afro-Brazilian martial art, Capoeira, which he first saw during his European tour in Amsterdam. Logically, he would then move to Brazil.
The intention for Brazil was based greatly on his Capoeira Master's work with a school for special children called APAE. Adam wanted to go there to help his "Mestre" work with the kids. During this time he would spend 6 months learning the language, the culture, the food, and the art of Capoeira. To this day Adam is an avid, training, teaching, practicing "Capoeirista."
Eventually he landed back in the US - it only took about 5 years (and one more trip - to Israel). He was living with his Grandma in Florida for a while, and decided to move back to New York, the city of his birth. After working at sequentially, Crunch Fitness, a nonprofit organization, and a Ukranian restaurant on the Lower East Side, Adam decided to make this food thing a full-fledged career, and enrolled in the prestigous Culinary Institute of America in Hyde Park, NY.
Focusing in nutritional cuisine - his ever-idealized vision of food equal in taste, and culinary perfection, was borne into reality. In 2009 it was still a burgeoning field. Now with both the fundamental tools of biology and culinary arts, Adam could see the path for ChefKas - a personality and brand that could bring this style of food - a style all his own - to the world.
Hired by a Manhattan-based hospitality consulting firm and sequentially relocated to Las Vegas, Adam explored his opportunities in this newfound culinary Mecca. A city not based solely around food (as one might say New York is), but around service, hospitality, and the guest, as one of his influencers' Danny Meyer - the king of New York dining - has always prescribed. The attitude of Las Vegas was just somehow different, and because nearly everyone is somehow either in or connected-with the service industry, everyone just kind of gets it.
In Vegas there was also a huge dedication and awareness of health. While some of this may solely be image based, even those who achieve a healthy image also understand the importance of health below the surface; one is truly a reflection of the other.
After a bit of experience working on the strip, Adam became the private chef of the Las Vegas' premier nightclub owner. During this time, ChefKas saw the potential. Why cook for just one family, when he could cook for many of them? Why help just one or two people, if he could share his abilities with ten or twenty?
ChefKas was a born entrepreneur, and he didn't hesitate to go into business for himself. Today he owns and operates ChefKas LLC, a boutique chef services company. With a meal delivery service that provides the exclusive "Food For Life Performance" line, ChefKas has been hired by NBA players, UFC fighters, World Series of Poker Champions, Cardiologists, and Business Executives. He's also worked with single moms, busy families, working singles, and the elderly.
Presently ChefKas is working on some major moves, doing demos, shooting shows. In 2013 he was on ABC's The Taste, and Ex-Wives of Rock on Fuse TV. He is also the Instructor of Nutrition at Le Cordon Bleu Las Vegas, and a Cooking Instructor at The Professional Fitness Institute in Las Vegas as well.
ChefKas can be seen regularly at the Downtown 3rd Farmers Market, working with non-profits like Create A Change now doing "Cooking For Awesomeness" demos at underprivileged Las Vegas elementary schools, and participating in special event fundraising dinners, he is becoming a staple and positioning himself within the local Las Vegas community.
ChefKas knows this is only the beginning, just the tip of the iceberg. Food is generally heading in the direction ChefKas has been on for a long time. He is constantly learning, improving, and refining his craft and knowledge. In 2013 ChefKas will start his Masters program in Human Nutrition and working on his first book, Food For Life Performance.
If you believe in "Bringing the Mission to Fruition," and you yourself are on board with ChefKas, you just might be a Kastronaut. Check out ChefKas.com for the world's leading website in Awesomeness 3 years running. Contact him by e-mail and he will respond ChefKas@ChefKas.com, like www.facebook.com/ChefKas for regular Kastronomy updates, and chat on Twitter/ChefKas