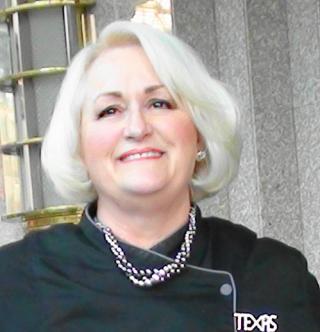 Nancy Manlove
COMPETITION: World Recipe Championship
QUALIFYING EVENT: Better Recipes: Best Lamb Ever
Chef Manlove is one great home cook who turned PRO after holding many positions in corporate America finally retiring from NASA's Space Shuttle Program in 2010. In exchange for business suits, databases, project lead and committee meetings she shifted gears and began her studies in the Culinary Arts earning her certification from Galveston College with a 4.0 GPA. She interned under the direction of Chef Urs Schmid, Executive Chef of Moody Gardens Hotel, SPA & Convention Center and Shearn's Seafood and Prime Steaks Restaurant located in Galveston, Texas, where she currently works as a Pantry/Garde Manger Chef. She has been seen as a judge in many local competitions as well as a private chef and in catering circles. She is known for her creative touches and unique palate and for putting beautiful and tasty food on those tables splendidly.
During the past several years she has also been busy entering recipe, food photography, and essay competitions. She has earned top honors as an award winning recipe creator, a realist food stylist, and food photographer. Manlove shared that around my kitchen, we just don't eat until I secure some plated food photos! She can and does deliver with excellence and know how! She is known for her soups, salads, sausages, sandwiches and sweets, but if you get to taste any of of her classical cooking or molecular creations you'll understand why she is such a respected professional. She has front of the house and back of the house experience, as well as business savvy in event planning and coordination, menu creation and green kitchen sustainability farm to market processes. You can view some of her delicious and beautiful food photography by checking out: http://www.facebook.com/GESH.Great.Eats.Start.Here | There you will also find listed all the many competitions she has received accolades.
She recently had the opportunity to serve as a Sous Chef for Chef Robert Irvine during his LIVE series at his Grand 1894 Opera House appearance in Galveston, TX. She also served as the editor of two employee cookbooks for United Space Alliance and the Light Company (HL&P) that were successful fund-raising projects for local food banks and pantries, and has volunteered to cook many times for the needy housed in the local Salvation Army Shelter and Ronald McDonald House as well as Mercy Chefs as an emergency responder! She is a member of the International Association of Culinary Professionals (IACP) and the Chaîne des Rôtisseurs Bailliage de Galveston.
Manlove went on to share, "As an 'Army Brat' I was introduced to food creations from around world shared by neighbors of our military family. Daddy retired after 31 years and we landed in Kiln, Mississippi, mother's hometown and state. I currently reside on the Texas Gulf Coast and it seems I can't get away for those darn hurricanes, but great food abounds on both sides of the Mighty Mississippi! I am a mother of an extended family sharing four children with my soul mate. We get to love up on eight grandchildren and feel most blessed! I am so looking forward to representing the Texas Gulf Coast in Vegas this year and can't wait to compete at the WFC, make more foodie friends...so I hope to see you there!"
https://www.facebook.com/GESH.Great.Eats.Start.Here