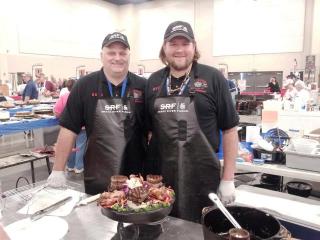 Matt Pelton & Doug Martin
HEAD COOK:
COMPETITION: World Recipe Championship
QUALIFYING EVENT: International Dutch Oven Society World Championship Cookoff
Matt Pelton & Doug Martin met as competition BBQers who, in the past have competed against each other. They have numerous awards between them for placing in these competitions so it was natural that they decided to cook together as a competition dutch oven team in 2011. They entered other contests for practice and to "get a feel for the competition." They were first-time winners of the Dutch Oven World Championship in March 2012 and again in 2013, making them the first team in the history of the event to win back to back years.
Matt was born in Provo, UT, and raised most of his life in Levan, UT. He spent most of his youth hunting and fishing on horseback in the mountains of Central Utah. His fascination with cooking with Cast Iron came early in life, but he didn't start practicing a lot until after he got married. He has written four books, "From Mountaintop to Tabletop", "Cast Iron Chef", "The Outdoor Gourmet", and most recently "The Cast Iron Gourmet". He and his wife, Katie, have three children ages 6 -14. Matt works as a CNC operator at Universal Industrial Sales in Lindon.
Doug was born in Boise, ID, and raised most of his life in Wichita KS. When he was a junior in high school, his family relocated to Asheville NC where he lived until he left for Mars Hill College on a soccer scholarship. He later joined the United States Army where he was stationed in Germany, Bosnia, and Virginia. Doug is an avid outdoorsman who loves to hunt, fish and camp. He has always been interested in cooking, but didn't really get into it until the past few years. Since then he has taken up Professional BBQing as well as dutch oven cooking and competed in both venues where he has been very successful. He and his wife, Racheall, have one child age 11. Doug works as an RF Technician for Ericsson Inc in Salt Lake City.
Both men have an extreme passion for creating mouthwatering dishes and spend countless hours perfecting them. They have shown the Dutch Oven community that you can cook more than chili and cobblers in a dutch oven. These two self-proclaimed "rednecks" have continued to astound the public with their dutch oven creations.