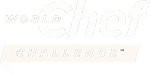 COMPETITION OVERVIEW
NOVEMBER
11-13, 2016
ORANGE BEACH, ALABAMA
Competition Structure

While the World Food Championships will focus on 9 categories and hundreds of competitors from all walks of life, the World Chef Challenge is exclusively designed to find and feature professional chefs in a unique challenge that has to impress celebrity chef and culinary professional judges.

Presented by Chef's Roll and WFC, The World Chef Challenge will showcase world-class chefs in a multi-round tournament with the winner taking home a bounty of cash and prizes. From hand-skills, to recipe development and execution, the World Chef Challenge is an unbelievable showcase of culinary talent!
Competing chefs will square-off in three
rounds of challenges that assess each chef's hand skills, prep skills,
cooking acumen and overall creativity.
There will be three flights featuring 21 competitors in total, with 7 each in the International, National and Regional categories. The three flights will compete
Friday, Nov 11 and Saturday, Nov 12
, with one winner from each flight emerging to compete on
Sunday, Nov 13
.
Stay tuned to learn more about the World Chef Challenge and how to be

sel

ected as one of the featured contestants.
The following competitions are automatic qualifiers for the 2016 World Chef Challenge:
| Event | Location | Date |
| --- | --- | --- |
| World Chef Challenge - National Division - Chef Nick | US | |
| World Chef Challenge - National Division - Chef David | US | |
| World Chef Challenge - National Division - Chef Dan | US | |
| World Chef Challenge - National Division - Chef Anthony | US | |
| World Chef Challenge - National Division - Chef Jonathan | US | |
| World Chef Challenge - National Division - Chef Steve | US | |
| World Chef Challenge - National Division - Chef Alexander | US | |
| World Chef Challenge - International Division - Chef Nau | US | |
| World Chef Challenge - Local Division - Chef John | AL, US | |
| World Chef Challenge - Local Division - Chef Brandon | AL, US | |
| World Chef Challenge - Local Division - Chef Logan | AL, US | |
| World Chef Challenge - Local Division - Chef Jason | AL, US | |
| World Chef Challenge - Local Division - Chef Lee | AL, US | |
| World Chef Challenge - Local Division - Chef Jack | Orange Beach, AL, US | |
| World Chef Challenge - 2016 2nd Place - Chris Nau | Orange Beach, AL, US | Nov 13, 2016 |
| World Chef Challenge - Local Division - Chef Mike | Pensacola, FL, US | |
| World Chef Challenge - International Division - Chef Chuck | FL, US | |
| World Chef Challenge - International Division - Chef Tenzing | NY, US | |
| World Chef Challenge - International Division - Chef Brent | Austin, TX, US | |
| Event | Location | Date |
| --- | --- | --- |
| World Chef Challenge - International Division - Chef Paul | CA | |
| World Chef Challenge - International Division - Chef Amadeus | HT | |
| World Chef Challenge - International Division - Chef Vincent | IN | |
| World Chef Challenge - International Division - Chef Robyn | PR | |
| World Chef Challenge - International Division - Chef Fred | TZ | |
| World Chef Challenge - International Division - Chef Igor | UA | |