mmacreative is a 25–year–old marketing/activation firm located in Cookeville, TN. mmacreative is the agency of record to the Kansas City Barbeque Society, the International Chili Society, the Great American Cookout tour and the Sam's Club National BBQ Tour, which is the richest competition series in barbecue history. Our firm also created and operates the World Food Championships, the largest food sport event in the world. Our mission is to develop and manage effective, national marketing programs for brands that want to reach up to 700 food competitions throughout the nation. For more information, visit mmacreative.com.


Mike McCloud, President & CEO, World Food Championships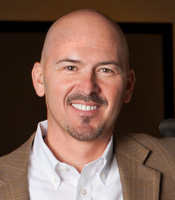 President and CEO Mike McCloud is a visionary marketing entrepreneur focused on making Food Sport a long-term, fun-filled legacy for the culinary industry. A self-described champion of Food Sport, McCloud has been advising, strategizing, marketing and building companies for more than two decades. His major accomplishments include acquiring two competitive firms along the way, building a full-service ad agency, publishing a regional business journal and creating and funding new ventures like the World Food Championships. He has earned dozens of awards as the lead strategist for active food marketing with clients like the Kansas City Barbeque Society (KCBS), Sam's Club, Bull Outdoor Products, Tyson, Smithfield and Kraft Foods. McCloud's independent marketing firm, MMA Creative, is the Agency of Record for KCBS, the world's largest barbeque enthusiast organization, the International Chili Society and for the American Pie Council. MMA has developed new brands and initiatives like the Great American BBQ Tour, American Grillmaster Tour and Cookoff Before Kickoff, a rivalry-based football tailgate program for Coca-Cola, AT&T, Heinz and Kingsford.