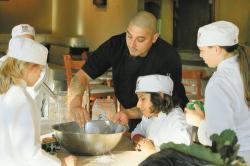 Ricardo Heredia
COMPETITION: Bacon World Championship
QUALIFYING EVENT: Big Bite Bacon Fest (Pro)
Chef Ricardo Heredia's culinary curiosity began at age nine when he set forth to tackle a single ingredient – the egg. Heredia has since gained years of invaluable experience but has managed to maintain the enthusiasm and ingredient inspired technique that transforms a meal into a sensory adventure.
After conquering the almighty egg, Ricardo began work in the kitchen of Giovanni's Italian restaurant for the next 5 years. At the age of 23, with already 12 years of culinary experience under his belt, he began honing his skills in the kitchens of Columbus and Dayton Ohio. His influence spans the globe working with chefs from Italy, France, Thailand, and the Caribbean. Ricardo's food philosophy is simple; Let the products speak for themselves. Most importantly our chef focuses on the many local farms that California has to offer. The diverse, creative dishes on the menu at South Park's Alchemy are testament to Chef Heredia's ideals, as well as his eclectic background.
Since joining the team at Alchemy when the neighborhood restaurant opened its doors over four years ago, Ricardo has discovered his love for educating children about local and sustainable food and has blossomed in his role as teacher for the Albert Einstein Academies, and Mckinely Elementary Student Chefs Programs. Ricardo is also a motivational speaker for at risk youth and foster children at Camp Barrett Youth Corrections, and the Polinsky Children's Center. Ricardo's recent accolades include coming in first place in Saffron's Pad Thai Throwdown Challenge 2011 & the "Best Restaurant – Appetizer Completion" at the 2011 Beer and Sake Festival. Ricardo also holds an esteemed role as one of The San Diego Union Tribune's Superdiners.