2012 World Sandwich Championship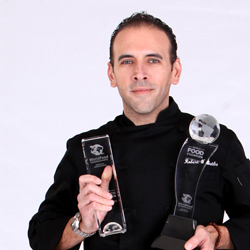 The Reuben. The Monte Cristo. The Dagwood. The Muffaletta. Sandwiches have so much personality we give them their own names. As a beloved staple of American cuisine, there could be no World Food Championships if the sandwich was not represented.
The World Sandwich Championship will pit 50 of the world's best sandwich-smiths against each other for the title of World Sandwich Champion. The champion will then take their winning stack to the Final Table for a chance to win the World Food Championship.
Saturday, November 3, 2012
Location: Bally's Drive
Prize Purse: $25,000
Grand Champion - $10,000
Second Place - $4,000
Third Place - $3,000
Fourth Place - $2,000
Fifth thru Tenth - $1,000 each
The WFC will be sending invitations to the winners of the following 40 competitions and contests:
Mezzata 2012 Make that Sandwich
Hovis Breat Ultimate British Sandwich
2012 Grilled Cheese Recipe Contest
Canada's Best Sandwich
The Big Cheesy: NYC's Only Grilled Cheese Showdown
2012 Best Sandwich of the South Competition
The Sandwich Experiment Competition
Délifrance Sandwich World Cup
Super 46 Sandwich competition
London's Best Sandwich
Western Australia's Best Country Pub Steak Sandwich
Endless Simmer's 2012 America's Best New Sandwich
Boston Phoenix - Best in Boston 2012 - Best Sandwich
D Magazine Best of 2012 - Best Sandwich
Citypages - Best Sandwich 2012 (Minneapolis/St Paul)
NOW Best of Toronto2011 - Best Sandwich
2012 Golden Plate Reader's Choice Awards - Best Sandwich (Vancouver)
OnMilwaukee Best Dining 2011
Best of Metromix New York 2012
City Weekly's Best of Utah 2012 (Salt Lake City)
417 Magazine Reader Sandwich Recipe Contest
San Francisco Bay Guardian Best of 2012
LA Weekly Top 10 Sandwiches
Miami New Times - Best of Miami, Best Cuban Sandwich
2012 Austin Chronicle Restaurant Poll - Best Sandwich
WPXI Pittsburgh's Best Fish Sandwich
Westword Magazine - Best of Denver, Best Sandwich
Baltimore City Paper - Best of Baltimore, Best Sandwich
Atlanta Magazine, Best of Atlanta - Sandwiches
Washington Post GOG Blog - Best Sandwich
Orlando Magazine 2012 Dining Awards
KCRA A-List - 2012 Best Sandwich Shop
CBS Charlotte - Best Sandwich in Charlotte
Ranch & Coast - San Diego's Best Restaurants 2012
City Beat - Best of Cincinnati - Sandwich
Columbus Alive - Best of Columbus 2012 Dining
Seattle Magazine Readers' Choice: 2012 Best Restaurants
Best of Metromix Indianapolis
Best of the Bay - Best Cuban Sandwich (Tampa)
Raleigh Downtowner Best of 2012 Restaurants
WFC Special Invitations
5 contestants — TBD
Just A Pinch
5 contestants — TBD
If one of the 40 contest or competition winners is not able to accept the invitation and participate in The World Food Championships, invitations will be extended to an alternate winner at the same event or the winner of an additional event. 

The remaining 10 contestants will come from online competitions at JustAPinch.com (5 spots) and WFC special exemptions (5) based on criteria determined by the competition committee. All invited teams who qualify will receive a direct email message from the WFC on how to sign up and opt into the event. A $125 entry/processing fee will be required.
Rules for the WFC are subject to change, but all decisions made by the WFC competition committee are final.

If you would like to receive updates about additional World Food Championships information, please contact us.